ADULT Programs
We have a variety of adult classes and workshops for those who love to learn! Many of our classes are on a rolling admission and some are drop-in to offer a bit of flexibility for busy lives. Check back often to see new opportunities.
---
Intro to Drawing
6-Week Class With Catherine Carter
Date:  January 3, 2018 – February 7, 2018
Time: Thursdays 6 – 8 pm
Cost: $135 Member/ $150 Non-Member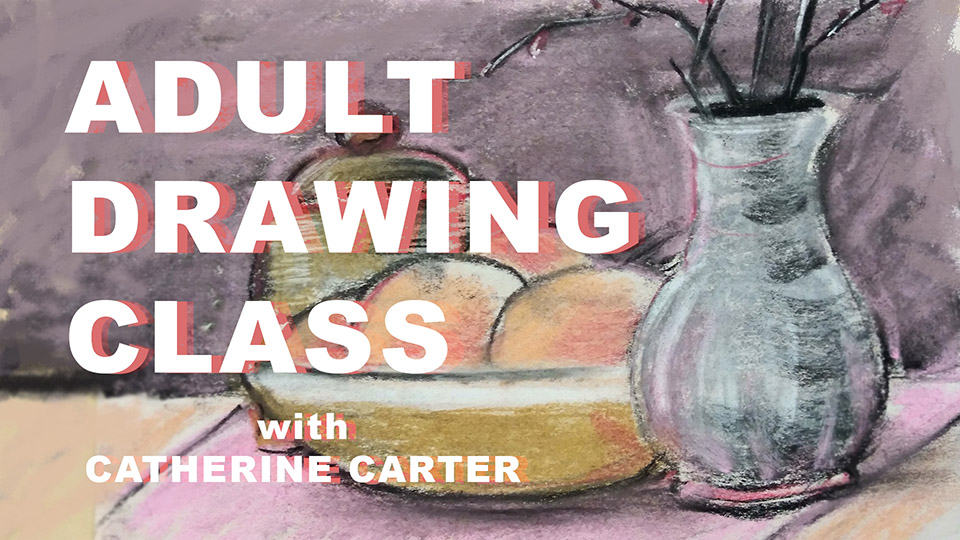 Anyone can learn to draw! You just need clear, detailed instructions and a little encouragement. Join Catherine Carter to discover the world of line, form, value, and composition. We will work from direct observation, using basic materials and classical methods. Students will complete the course with the ability to create realistic depictions of still-life objects, botanical subjects, portraits, and other traditional subject matter.
Catherine Carter has taught drawing and painting classes to all ages and levels at college programs and art museums for more than 20 years. She has exhibited her own paintings extensively, including shows at the United States Embassies in Oman and Cameroon. She received a Master of Fine Arts degree in Painting from the University of Massachusetts Dartmouth, and currently resides in New Bedford.
To Register for this class: CLICK HERE!
---

Clay Handbuilding and Pottery WHEEL FOR ADULTS
Date: Every Thursday
Time:  6:00 – 8:00 pm
Cost: $22 Member/ $25 Non-Member
Date: Every Saturday
Time:  10:00am – 12:00 noon
Cost: $22 Member/ $25 Non-Member
There will be no class December 8th.
Complimentary 2lbs of clay is provided for first class.  Additional cost  clay on subsequent classes; 5$ per 5 pounds. Low fire glazes and firings included.
To CLICK HERE to register for a class and pay, or call the museum at  508-961-3072. If the online site won't allow you to purchase tickets, it means that the class is sold out.
Open Clay Studio
For our advanced adult clay students who can work independently we are now offering open studio time during the week and weekend. No instructor is provided. Open studio is available during New Bedford Art Museum gallery a hours, 12-5pm Wednesday through Sunday, when the clay studio is not being used for our regularly scheduled classes. Please call to schedule your time slot.
Cost: $9 per hour for members, $10 per hour for non-members
Adult students interested in doing open studio must either take one adult clay drop-in class, or  schedule a meeting ($10 for an hour) with the studio manager to review studio rules and practices.
Call Deb (508-961-3072) to make arrangements for Open Studio.
---
---
New Bedford Art Museum/ArtWorks! reaches out to the following communities and beyond to engage a diverse audience, offer exemplary educational programming and provide a vibrant center for the arts: New Bedford, Marion, Mattapoisett, Dartmouth, Westport, Rochester, Wareham, Acushnet, Freetown, Berkley, Swansea, Fall River, Fairhaven, Middleborough, Bristol, Newport and Providence.