ADULT Programs
We have a variety of adult classes and workshops! Many of our classes are on a rolling admission and some are drop-in to offer a bit of flexibility for busy lives.
---
Printmaking Workshop with Corinne Rhodes
Date: August 11 & September 29, 2018
Time: Saturday 10 – 4 pm
Cost: $90 Member/ $100 Non-Member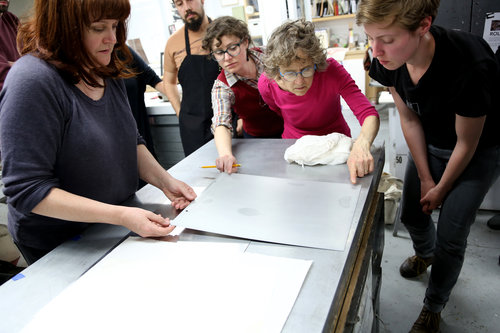 Join us at the New Bedford Art museum with renowned artist Corrine Rhodes! Referencing the beautiful, hand-colored prints of John James Audubon, we will learn how to create our own prints of birds (based upon photographs, drawings, paintings or other imaginary) by using hand-cut linoleum to create a variety of lines, from fine and delicate to bold and gestural.
Saturday August 11: we will explore traditional relief-printing methods,  followed by several simple monotype techniques to add a myriad of color and form
Saturday September 29: we will learn the techniques to prepare plates for collagraph and  intaglio printing and use monotype to add color and interest.
Minimum of 6 students are needed to each run class.
To register for these classes CLICK HERE!
---

PAINTING CLASSES WITH RYAN SANTOS
Date: 7/12 – 8/30/2018
Time: Thursdays 6:00-8:00 pm
Cost: $22.00 Member/ $25 Non-Member per class
To register, call our Studio Arts Director, Deb Smook at 508-961-3072.
All levels welcome. 8 weeksLearn the classic methods used by the old masters. Whether a new student just starting out, or an establish artist looking to further refine your skills, let this relaxing, fun and informative class take your skills to the next level!
New students will be provided with a beginning image to practice their skills on. Ryan will work alongside them, demonstrating proper methodology and foundational techniques for their first successful oil painting.
Returning students can decide on their own subject or finish work from previous sections. Intermediate and advanced participants can bring in still life objects of their own!
Ryan Santos is an illustrator and painter that was trained and exhibited in New York City as well as New England. This New Bedford native currently makes the South Coast his home.
Click here to download the painting class supply list.
---

WHEEL FOR ADULTS
Date: Every Thursday
Time:  6:00-8:00 pm
Cost: $25 Member/ $22 Non-Member
Date: Every Saturday
Time:  2:30-4:30 pm
Cost: $22 Member/ $25 Non-Member
5lbs of clay is provided for first class. Additional cost  clay on subsequent classes; 1$ per pound. Low fire glazes and firings included.
Pay as go instructional clay classes from beginner to advanced students.
Open Clay Studio
For our advanced adult clay students who can work independently we are now offering open studio time during the week and weekend. No instructor is provided. Open studio is available during New Bedford Art Museum gallery and office hours when the clay studio is not being used for our regularly scheduled classes. Call to schedule your time slot.
Cost: $9 per hour for members, $10 per hour for non-members
Call Deb (508-961-3072) to make arrangements for Open Studio.
---
New Bedford Art Museum/ArtWorks! reaches out to the following communities and beyond to engage a diverse audience, offer exemplary educational programming and provide a vibrant center for the arts: New Bedford, Marion, Mattapoisett, Dartmouth, Westport, Rochester, Wareham, Acushnet, Freetown, Berkley, Swansea, Fall River, Fairhaven, Middleborough, Bristol, Newport and Providence.