Current Exhibitions
---
---
Skylight Gallery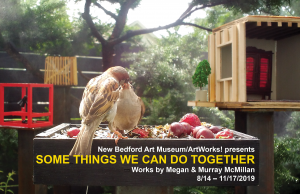 Some Things We Can Do Together
Megan & Murray McMillan
August 14,  2019 – November 17,  2019
Opening reception: AHA! Thurs,  Aug 9,  6 – 8 PM
Click here to view the digital catalog.
Artists Megan and Murray McMillan are teaming up with NBAM/ArtWorks! to create new artworks that will engage and delight museum visitors — and birds!
Their newest video titled SOME THINGS WE CAN DO TOGETHER is just one of eleven videos, two larger than life Lillies, and enchanting explorations of interpersonal relationships. Drawing on their own experiences, having known one another since they were fifteen-years-old; married for twenty-two years the McMillans have been making art collaboratively for over a decade. Their art practice exists in the space of constant conversation between the two. This bond is reflected in their art; and like the work, it is complicated, funny at times, magical, assertive, and most of all, it is kind.
This exhibition is a part of DATMA's Summer Winds Festival.
Thank you to our sponsors: Roger Williams University, Tufts University, Collins Construction Co, Inc., Fiber Optic Center, Bob and Jane Duff-Gleason and Walmart Fairhaven, MA
---
HERITAGE GALLERY
Warmed by Sunshine, Lit by Starlight
Art Ballelli & Roy St. Christopher Rossow
Oct 9, 2019 – March 22, 2020
Opening Reception: AHA! Thurs, Oct 10, 6 – 8 PM
Warmed by Sunshine, Lit by Starlight showcases new paintings of timeless places. Artists Art Ballelli and Roy St. Christopher Rossow create representations of scenes familiar to the South Coast region that is activated by light. A moment of late afternoon sunlight cutting through dark clouds, the bright arc of a distant welding torch shimmering across black water, century-old houses warmed by sunshine, and a historic waterfront lit by starlight. Each moment captured by the artists highlights the historical relevance and beauty of Westerly, RI and New Bedford, MA.
---

FIBER OPTIC CENTER NEW MEDIA GALLERY
Sea Sic 
Johannes DeYoung
Aug 8,  2019 – Feb 2,  2020
Johannes DeYoung is an artist whose work in experimental animation and time-based media explores themes of animism and human psychology. His practice frequently engages forms that blend computer animation with experimental processes in painting and drawing.
Thank you to our program sponsor: Whaling City Sound
---
CITY HALL EXHIBITIONS
NBAM/ArtWorks! is proud to curate four exhibitions per year on the 2nd floor of City Hall and in the Ashley Room.  City Hall is located at 133 William St, New Bedford, MA 02740 and is open weekdays from 8 AM – 4 PM.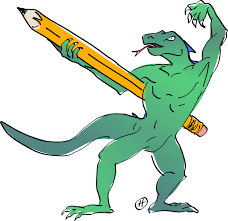 Inner Voices
Helen Granger
Jun 13,  2019 – Dec 13,  2019
"I wanted these paintings to stay loose so I chose to execute them quickly, in acrylics, on plain canvas. I like the expressiveness of keeping a simple line. My chattering creatures seem to want to be embodied in bold colors and I like how that keeps the images playful … Even when I use them to embody my darkest thoughts, their cartoon nature gives them a non-threatening air—serious and not serious at the same time. Utterly unimportant but significant, too." – Helen Granger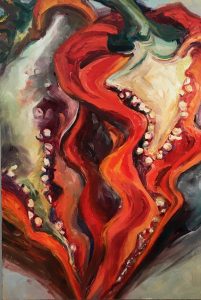 Sense and Sensual
Kim Barry
Jun 13,  2019 – Oct 31,  2019