Current Exhibitions
---
---
HERITAGE GALLERY
Warmed by Sunshine, Lit by Starlight
Art Ballelli & Roy St. Christopher Rossow
Oct 9, 2019 – March 22, 2020
Opening Reception: AHA! Thurs, Oct 10, 6 – 8 PM
Warmed by Sunshine, Lit by Starlight showcases new paintings of timeless places. Artists Art Ballelli and Roy St. Christopher Rossow create representations of scenes familiar to the South Coast region that is activated by light. A moment of late afternoon sunlight cutting through dark clouds, the bright arc of a distant welding torch shimmering across black water, century-old houses warmed by sunshine, and a historic waterfront lit by starlight. Each moment captured by the artists highlights the historical relevance and beauty of Westerly, RI and New Bedford, MA.
---

FIBER OPTIC CENTER NEW MEDIA GALLERY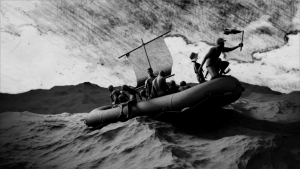 Sea Sic 
Johannes DeYoung
Aug 8,  2019 –  Feb 2,  2020
Johannes DeYoung is an artist whose work in experimental animation and time-based media explores themes of animism and human psychology. His practice frequently engages forms that blend computer animation with experimental processes in painting and drawing.
Thank you to our program sponsor: Whaling City Sound
---
City Gallery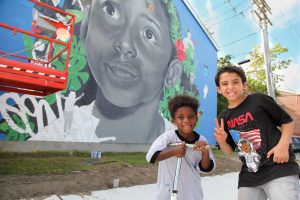 Superflat New Bedford Presents
THE VISE1 PROJECT
9/12/2019 – 1/26/2020
Superflat NB & the New Bedford Housing Authority invited Cedric "Vise1" Douglas, an internationally recognized street artist from Boston, to conduct a series of workshops with the families and youth of Ben Rose Gardens. Together, they explored themes important to the community using the history and techniques of street art. The result? A number of inspired art-making projects and a two-story-high mural that furthers the mission of Superflat NB: to flatten barriers to the arts by directly engaging New Bedford's youth, artists, and its residents while beautifying New Bedford.
---
ARTIST IN RESIDENCE
Entropy
Stacy Latt Savage
Nov 2019 – May 2019
Reception: Thursday, May 14, 2020, from 5 PM – 8 PM
Entropy is an installation that transforms over time. Every AHA! night through May 2020 artist, Stacy Latt Savage will be adding to this installation. Please enjoy the work in progress today and throughout the months to come. 
Stacy Latt Savage will be available for questions and conversation as she works on Entropy from 5 PM – 8 PM on the following dates. 
Thursday, December 12, 2019
Thursday, February 13, 2020
Thursday, March 12, 2020
Thursday, April 9, 2020
Thursday, May 14, 2020
---