Donate
Any level of donation aids the continuation and expansion of the Museum's exemplary educational and exhibition programming. Donate today!
---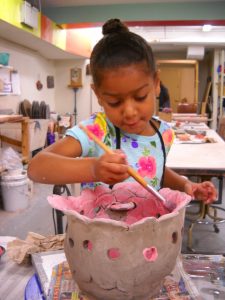 The wheel spins and little fingers tentatively reach out.  As the teacher guides her hands, the girl experiences the thrill of feeling a vessel begin to take shape from the lump of clay beneath her hands.  She may not grow up to be a potter, but she'll remember the excitement and magic of this moment. It's that magic moment of discovering the creative person within you that we want every child (and adult!) to experience.  And you can help us make those moments happen.
Your gift to the Annual Appeal  provides us with the ability to create those experiences, reach out to the community and offer first class exhibitions. Donate today. Together we can do this. Thank you!
---