Kids Programs
Art is important for growing and creative minds! Let your kids express themselves in our workshops and classes. Many of our classes are on a rolling admission and some are drop-in to offer a bit of flexibility for busy lives. Have any questions? Call Deb Smook, the Education Director at (508) 961-3072
---


FROSTY FEBRUARY Vacation 
February 19 – February 22, 2019
To Register for Frosty February Vacation Workshops: CLICK HERE
Multimedia | Ages 6-9 | Tuesday–Friday 9:00am-2:00pm
Kids will be use painting, sculpture, drawing, and more to create unique artworks of their choice. Cartoons, landscapes, animals, doodle, still life and more! Imagination is the only limit in this class. $280 Non-Members/$252 Members
Tweens on Wheels |  Ages 9-13+ | Tuesday–Friday  9:00am-2:00pm
Students will get their hands dirty and have fun learning how to make pots, bowls and sculptures using the potter's wheel and hand-building techniques. $280 Non-Members/$252 Members:
Prop-a-paloosa  | Ages 9-13+ |  Tuesday–Friday   9:00am-2:00pm.
We will be creating props of all shapes and sizes to be utilized by students of the Zeiterion theater in a performance at the end of the week.  The class will be inspired and engaged as they dream up various props and execute the objects that will motivate the Z's student group to perform imaginative and spontaneous dramatic skits.  This will be a fun collaborative experience.  $280 Non-Members/$252 Members:
Intro to Photoshop & Animation  |  Ages 10-13+  | Wednesday–Friday  1:00pm-4:00pm
Learn how to become a digital wizard with this excellent introduction to photoshop and GIF animation. Students will learn how to create and manipulate images, manage layers, and use the timeline function to create their own unique animated drawings. This class only meets Wednesday, Thursday, and Friday. $135 Non-Members/$122 Members
Aftercare for students is available everyday from 2:00 pm – 5:00 pm. $30 Non-Member/ $27 Member and must be registered in advance for each day.
---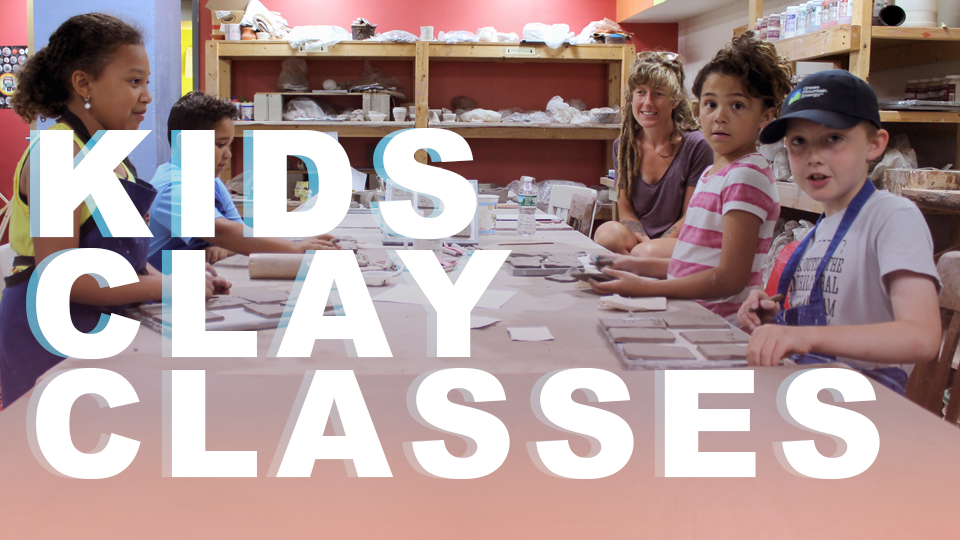 Weekly drop-in clay classes begin again on September 15th! Pay as you go. Parents welcome to join in!
Students learn basic hand-building and wheel throwing techniques to create sculptures and vessels.  Clay and glazes are provided for free. Please pre-register for classes to save your spot! 
Click HERE to register for classes!
Every Saturday 12:00 – 2:00pm
$25 members/$28 non members per child.
---

ARTMOBILE
Operating much like a bookmobile, the 2 purple vans, each with 2 experienced art educators, engage low-income children with fun educational art activities at 20 New Bedford community sites for 7 weeks during July and August.  
Find out if the artMobile if we're coming to your neighborhood this summer! 
Click HERE  to download a PDF of our 2018 summer schedule.