TEEN CLASSES
We have a variety of teen classes. Many of our classes are on a rolling admission and some are drop-in to offer a bit of flexibility for busy lives.
---
DIVE INTO PHOTOSHOP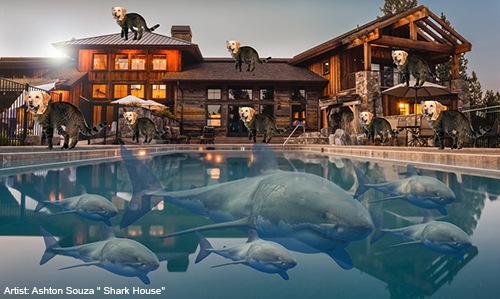 Dive into Photoshop
October 19 to November 9, 2017
3:30-5:00pm
COST: $90 Member/ $100 Non-Member
Wouldn't your life be so much better if you could animate a cat flying through space on a slice of pizza? What if you could take that same cat and digitally collage its head on an MMA Fighter's body? Learn how to be a digital wizard in our Intro to Photoshop: Digital collage, gifs, and composite imagery class and improve your digital art skills and probably your life! Students will learn the basics of composite imagery and digital collage as well as gif animations.
or call Deb 508-961-3072 to register
---

The Teen Arts Council will be composed of middle school to high-school-age youth ages 14-19  from the Greater New Bedford area. It will offer participants the opportunity to engage with art, culture, and history; develop workplace and team building skills, and learn about a range of professional options and career paths.
Youth council members explore the world of contemporary art, attend local and out-of-town exhibitions and performances. They will meet with exhibiting artists, and introduce art and the museum exhibits and culture to other youth groups and organizations. The council will advise the NBAM/ArtWorks! staff on engagement strategies for local teens.
NBAM/ArtWorks! will provide a paid job opportunity for teen art leadership development for teens ages 14-19.
Candidates must complete application in full.
Handwriting must be legible.
Provide an email to receive communications.
Eligible candidates will complete an interview with the Studio Education and Outreach Director.
The Teen Art Council will meet on Thursdays from 5:30 pm to 7:30 pm.  (Note: The number of times per month will be determined by the council.)
Mail to: NBAM/ArtWorks!  Attn: TAC
608 Pleasant St., New Bedford, MA  02740
or email all documents to [email protected]
Early applications are encouraged. Have questions?
Call Deb or Alanna at 508-961-3072 between the hours of 9:00 am to 3:00 pm. Monday through Friday.
Application Deadline:  Midnight, September 22, 2017.
Notification of Acceptance: October 6, 2017  via email.
---
TEEN ARTIST INTERNSHIP PROGRAM

Click here to download the 2018 TAIP Calendar.
Click here for the student application.
Click here for the Teacher Recommendation form.
This free program pairs Junior and Senior high school students with a professional artist in their studio. The opportunity to spend concentrated, in-depth time creating art with working artists provides motivated students with the chance to examine the life of a professional artist as they prepare themselves to apply for future study in a creative career. The program is supported, in part, by The Bristol County Savings Charitable Foundation Local Cultural Councils in Acushnet, Dartmouth, Mattapoisett, New Bedford, Westport,  Freetown Marion, Fairhaven and Rochester. Thanks for your support.
---
NBAM/ArtWorks! is seeking artist mentors for our Teen Artist Internship Program (TAIP)
We are looking for local artists who would enjoy the opportunity to share their studio space and mentor a young person with a passion for the arts.
Click here for more information on how to be a mentor
Click here to download the mentor application
---
 To register, call our Studio Education & Outreach Director, Deb Smook at 508-961-3072.
---
New Bedford Art Museum/ArtWorks! reaches out to the following communities and beyond to engage a diverse audience, offer exemplary educational programming and provide a vibrant center for the arts: New Bedford, Marion, Mattapoisett, Dartmouth, Westport, Rochester, Wareham, Acushnet, Freetown, Berkley, Swansea, Fall River, Middleborough, Bristol, Newport and Providence.