Workshops
New Bedford Art Museum/ArtWorks! offers a variety of workshops throughout the year. Check back often for updates on workshops! 
---
---
FAMILY BIRDHOUSE BUILD
Saturday 9/15 and  Saturday 10/13 from 10 AM – 11 AM
Free and open to the public!
Families that build together, have a blast together at NBAM/AW! Build bird habitats with our intern Dan! Learn about our state bird, the Black-capped Chickadee, as we build it a perfect habitat. Children 3 and up recommended. Adults will be assisting children.
Register for September
HERE!
Register for October
HERE!
---
Printmaking Workshop with Corinne Rhodes
Saturday, 9/29 from 10 AM – 4 PM
$90 Member/ $100 Non-Member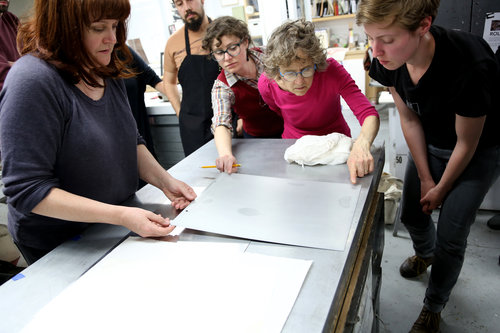 Join us at the New Bedford Art museum with renowned artist Corrine Rhodes! Referencing the beautiful, hand-colored prints of John James Audubon, we will learn how to create our own prints of birds (based upon photographs, drawings, paintings or other imaginary) by using hand-cut linoleum to create a variety of lines, from fine and delicate to bold and gestural.
Saturday September 29: we will learn the techniques to prepare plates for collagraph and  intaglio printing and use monotype to add color and interest.
To register for these classes CLICK HERE!
---
Teen Memes With MIMI : Intro to gif animation
With Mimi chrzanowski
Date: Saturday October 6, 2018
Time: 1:00 – 3:30 PM
Cost: $ 25 Member/ $ 27 Non-Member
Ages: 12 – 16
Hey teens! Do you love to draw but wish you could make those still images move? No problem – let's learn to make animated GIFs together! Join one of the Museum's exhibiting artists, Mimi Chrzanowski, and learn how to take your original pen and ink drawings and edit, digitize, and animate them in Photoshop. You'll finish class with at least one animated GIF ready to share and the skills to make countless more!
This is a great introduction to animation and to Photoshop, an industry standard program for digital artists.
---
The Great Pumpkin Workshop
10/21 from 1:30 -2:30 PM
The cost of this workshop is $2 per pumpkin.
Pre-registration requested, sign up here.
Get creative by painting or carving your own pumpkin! Need inspiration? Artists will be on-hand to help! Visit NBAM/Artworks on Sunday, October 21 between 1:30pm and 2:30pm to create your unique pumpkin.
---
---
New Bedford Art Museum/ArtWorks! reaches out to the following communities and beyond to engage a diverse audience, offer exemplary educational programming and provide a vibrant center for the arts: New Bedford, Marion, Mattapoisett, Dartmouth, Westport, Rochester, Wareham, Acushnet, Freetown, Berkley, Swansea, Fall River, Fairhaven, Middleborough, Bristol, Newport and Providence.