Workshops
New Bedford Art Museum/ArtWorks! offers a variety of workshops throughout the year. Check back often for updates on workshops! 
---

Image designed by Julia Gering & Michelle Bowers's design students
---
Practice Best Practice
A Cultural Education Series for Artists, Businesses, and Non-Profits
The series is designed and delivered by: Co-Creative Center, New Bedford Art Museum/ArtWorks!, and S&G Project Gallery
Practice Best Practice is a series of community conversations designed to help different segments of the SouthCoast cultural community improve their practice and enhance their success in the creative economy. This series offers panels and workshops that teach artists, businesses, and non-profits best practices and ways to work with the others to foster professional and financial success.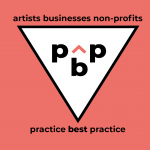 Practice Best Practice: Exhibiting for Exposure
How to avoid classic artist mistakes and get yourself paid.
11/15 from 5 PM – 7 PM
Co-Creative Center 137 Union Street, New Bedford
Free with registration
Join Jamie Uretsky, curator of New Bedford Art Museum/ArtWorks!, Camilo Alvarez, Director of Samsøñ Projects, Denn Santoro owner of S&G Gallery, and artist Donna Dodson as they discuss how to negotiate business relationships regarding showing and selling artwork and gain a better understanding of the overall art market with professionals in the field.
---
---
New Bedford Art Museum/ArtWorks! reaches out to the following communities and beyond to engage a diverse audience, offer exemplary educational programming and provide a vibrant center for the arts: New Bedford, Marion, Mattapoisett, Dartmouth, Westport, Rochester, Wareham, Acushnet, Freetown, Berkley, Swansea, Fall River, Fairhaven, Middleborough, Bristol, Newport and Providence.