Workshops
---
New Bedford Art Museum/ArtWorks! offers a variety of workshops throughout the year. Check back often for updates on workshops! 
---
FAMILY BIRDHOUSE BUILD
8/11, 10AM – 11AM
Free and open to the public!
Families that build together, have a blast together at NBAM/AW! Build bird habitats with AmeriCorps VISTA Dan!
---
Printmaking Workshop with Corinne Rhodes
Date: August 11 & September 29, 2018
Time: Saturday 10 – 4 pm
Cost: $100.00 Member/ $90 Non-Member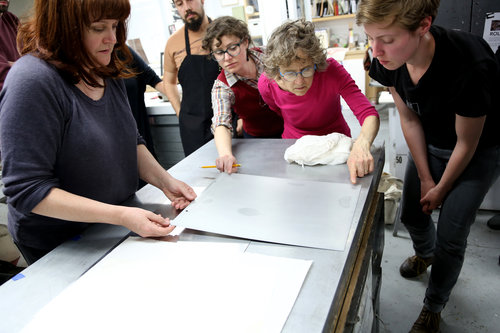 Join us at the New Bedford Art museum with renowned artist Corrine Rhodes! Referencing the beautiful, hand-colored prints of John James Audubon, we will learn how to create our own prints of birds (based upon photographs, drawings, paintings or other imaginary) by using hand-cut linoleum to create a variety of lines, from fine and delicate to bold and gestural.
Saturday August 11: we will explore traditional relief-printing methods,  followed by several simple monotype techniques to add a myriad of color and form
Saturday September 29: we will learn the techniques to prepare plates for collagraph and  intaglio printing and use monotype to add color and interest.
Minimum of 6 students are needed to each run class.
To register for these classes CLICK HERE!
---
New Bedford Art Museum/ArtWorks! reaches out to the following communities and beyond to engage a diverse audience, offer exemplary educational programming and provide a vibrant center for the arts: New Bedford, Marion, Mattapoisett, Dartmouth, Westport, Rochester, Wareham, Acushnet, Freetown, Berkley, Swansea, Fall River, Fairhaven, Middleborough, Bristol, Newport and Providence.