CITY HALL EXHIBITIONS
NBAM/ArtWorks! is proud to curate four exhibitions per year on the 2nd floor of City Hall and in the Ashley Room.  City Hall is located at 133 William St, New Bedford, MA 02740 and is open weekdays from 8 AM – 4 PM.
2nd Floor
Pat Coomey Thornton and John Havens Thornton
Nov 13, 2019 – May 4, 2020
Ashley Room
Small Abstractions by Pat Coomey Thornton
Jan 7, 2020 – May 4, 2020
Pat Coomey Thornton and John Havens Thornton are both New Bedford-based artists who have been a part of the New Bedford creative community for decades. These two exhibitions are a celebration of their works and a testament to the talent that continues to come out of New Bedford.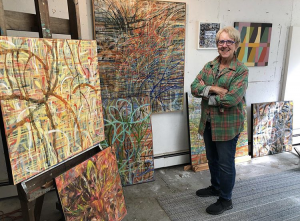 Pat Coomey Thornton was born and raised in Worcester, Massachusetts. She graduated from Massachusetts College of Art, Boston, MA with a BFA and Pius XII Institute, Florence, Italy with an MFA in Painting. Pat taught studio courses at the School of the Worcester Art Museum from 1970 to 1980 before marrying John and moving to Boston and then to New Bedford. She has shown her work in the Boston area and South Coast MA., including the Rose Art Museum, the Fuller Art Museum, Boston Center for the Arts, and galleries in Boston, Worcester, New Bedford area and Providence. She was also a Massachusetts Artist Foundation Painting and Drawing Finalist. She worked in Arts Administration at Rhode Island School of Design before retiring.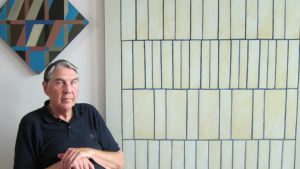 Born in 1933 to American parents in Mexico City, Thornton studied painting with William Seitz at Princeton University in the mid-1950s and was among the very first painters to absorb the lessons of the Abstract Expressionists. From 1963-1984 he taught courses on studio art and the philosophy of art at the Massachusetts College of Art in Boston. He has exhibited his paintings regularly since 1961, notably in the Whitney Annual of 1967, a two-person exhibition at the ICA in Boston the same year, a solo exhibition at the Rose Art Museum in Waltham, MA in 1979 and, a retrospective at the New Bedford Art Museum/ArtWorks! in 2004.
If you are interested in knowing more about the Thorntons or purchasing their artworks, please contact Jamie Uretsky at [email protected] . 100% of the proceeds go back to the artists.