Current Exhibitions
---
SKYLIGHT GALLERY
EXCAVATION: Layers of Meaning
Curated by Catherine Carter
Adria Arch, Tracy Barbosa, Resa Blatman, Alma Cummings, Mary Dondero, Steven Duede, Anthony Falcetta, Lisa Granata, Nancy Hayes, and  Jeannie Motherwell
EXCAVATION: Layers of Meaning digs into the layers of artworks made by ten Massachusetts artists whose work has not appeared at the Museum before. Viewers are invited not only to examine the finished products but to envision the various stages that led to each artworks' existence, from origins to the current state of completion. By following the artists through their individual creative processes, we can better understand the miracle that is creation, in art and in life.
Press
---

FIBER OPTIC CENTER NEW MEDIA GALLERY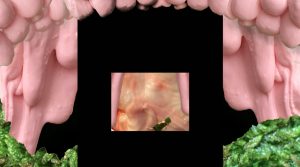 How to Make Slime
Video and sculptures by Eli Brown
Feb 12 –  June 14, 2020
Reception: Thurs, Feb 13, 6 – 8 PM
Snow Date: Thurs, March 12,  6 – 8 PM
Eli Brown is an interdisciplinary artist working in writing, drawing, living media, sculpture, performance video, sound, and participatory projects. His projects explore the histories and futurities of queer and trans subjectivities, communities, and intimacies, and deal with anthropocentrism as it relates to conceptions of evolution and species.
---
New Bedford Free Public Library Presents
CITY GALLERY AND READING ROOM
Since 1852, the library has amassed extensive holdings of printed works, manuscripts, graphics, fine art, and objects used for research, exhibit, and educational purposes. The art collection is on public view at the Main Library, and special exhibitions, curated by Allie Copeland, are showcased in the City Gallery at the New Bedford Art Museum.
She Persisted: Women Artists of New Bedford, 1900-2019
Feb 5, 2020 – Jul 26, 2020
She Persisted: Women Artists of New Bedford, 1900-2019, and highlights female-identified artists from the Library's collection.
Read more about She Persisted in the digital catalog!
Check out the Library's collection on the 3rd floor, Main Library (613 Pleasant Street ).
Monday & Thursday: 1:00pm – 9:00pm
Tuesday & Wednesday: 9:00pm – 6:00pm
Friday & Saturday: Limited hours
Click here, for more information about the Library's collection.
---
ARTIST IN RESIDENCE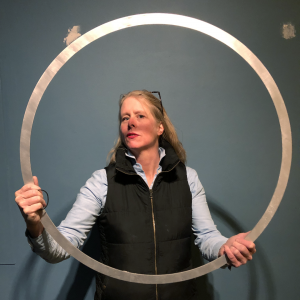 Entropy
Stacy Latt Savage
Nov 2019 – May 2020
Reception: Thursday, May 14, 2020, from 5 PM – 8 PM
Entropy is an installation that transforms over time. Every AHA! night through May 2020 artist, Stacy Latt Savage will be adding to this installation. Please enjoy the work in progress today and throughout the months to come. 
Stacy Latt Savage will be available for questions and conversation as she works on Entropy from 5 PM – 8 PM on the following dates. 
Thursday, December 12, 2019
Thursday, February 13, 2020
Thursday, March 12, 2020
Thursday, April 9, 2020
Thursday, May 14, 2020
---
CITY HALL EXHIBITIONS
NBAM/ArtWorks! is proud to curate four exhibitions per year on the 2nd floor of City Hall and in the Ashley Room.  City Hall is located at 133 William St, New Bedford, MA 02740 and is open weekdays from 8 AM – 4 PM.
Thurs, March 12,  5 – 7 PM
The reception will be at City Hall in the Ashley Room (133 William St)
Free and open to the public
2nd Floor
Pat Coomey Thornton and John Havens Thornton
Nov 13, 2019 – May 4, 2020
Ashley Room
Small Abstractions by Pat Coomey Thornton
Jan 7, 2020 – May 4, 2020
Pat Coomey Thornton and John Havens Thornton are both New Bedford-based artists who have been a part of the New Bedford creative community for decades. These two exhibitions are a celebration of their works and a testament to the talent that continues to come out of New Bedford.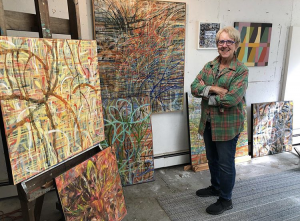 Pat Coomey Thornton was born and raised in Worcester, Massachusetts. She graduated from Massachusetts College of Art, Boston, MA with a BFA and Pius XII Institute, Florence, Italy with an MFA in Painting. Pat taught studio courses at the School of the Worcester Art Museum from 1970 to 1980 before marrying John and moving to Boston and then to New Bedford. She has shown her work in the Boston area and South Coast MA., including the Rose Art Museum, the Fuller Art Museum, Boston Center for the Arts, and galleries in Boston, Worcester, New Bedford area and Providence. She was also a Massachusetts Artist Foundation Painting and Drawing Finalist. She worked in Arts Administration at Rhode Island School of Design before retiring.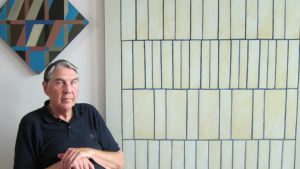 Born in 1933 to American parents in Mexico City, Thornton studied painting with William Seitz at Princeton University in the mid-1950s and was among the very first painters to absorb the lessons of the Abstract Expressionists. From 1963-1984 he taught courses on studio art and the philosophy of art at the Massachusetts College of Art in Boston. He has exhibited his paintings regularly since 1961, notably in the Whitney Annual of 1967, a two-person exhibition at the ICA in Boston the same year, a solo exhibition at the Rose Art Museum in Waltham, MA in 1979 and, a retrospective at the New Bedford Art Museum/ArtWorks! in 2004.
If you are interested in knowing more about the Thorntons or purchasing their artworks, please contact Jamie Uretsky at [email protected] . 100% of the proceeds go back to the artists.