Through Darkness to Light:
Photographs Along the Underground Railroad
Produced in partnership with the New Bedford Historical Society, the New Bedford Art Museum presents Through Darkness to Light.
Through Darkness to Light: Photographs Along the Underground Railroad offers a  haunting glimpse of the geographic and psychological terrain traversed by an  estimated 100,000 enslaved men and women seeking freedom in the decades before  the end of the Civil War in 1865. Covering roughly twenty miles each night, their every  step was shadowed by the fear of being captured and brutalized or killed as an example  to others who might dare to seek their own liberation.
Photographer Jeanine Michna-Bales spent more than a decade meticulously  researching the "fugitive" enslaved and the ways they escaped to freedom. Out of the  innumerable routes of the Underground Railroad, Michna-Bales documented a path of  roughly 1,400 miles, marked by actual cities and sites passed through by freedom seekers. From the cotton plantations just south of Natchitoches, Louisiana, all the way  north to Canada, these images invoke a sense of the journey out of bondage—of what it  might be like to run in fear for roughly three months, with very little help along the way, seeking the fundamental human right of freedom.
Considered by many to be the first Civil Rights movement within the United States, the  Underground Railroad was intercultural and coded in its design to secure that right.  People of different races, genders, classes, faiths, and regions worked together to  covertly guide the enslaved from one safe location to the next, until they reached  freedom. Because secrecy was necessary, there is little visual documentation of the  Underground Railroad. Some locations are based on word-of-mouth descriptions and  oral histories, and careful consideration has been taken here to respect this tradition.  But these sites are included to honor both the oral legacy of the Railroad and its  centrality to US history, ultimately charting a path toward greater awareness of our  shared cultural roots.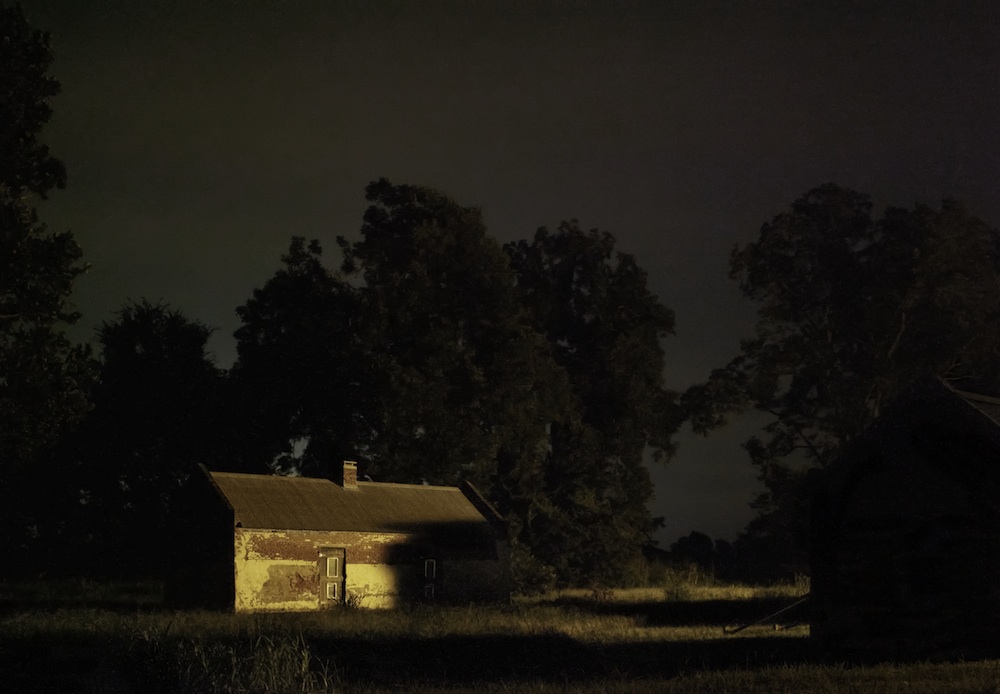 Jeanine Michna-Bales
Decision to Leave
Magnolia Plantation on the Cane River, Louisiana
2013
chromogenic color print
25 1/4 x 36 1/4
 Jeanine Michna-Bales
Wading Prior to Blackness
Grant Parish, Louisiana
2014
chromogenic color print
17 1/4 x 24 3/4
Jeanine Michna-Bales
Hidden Passage
Mammoth Cave, Barren County, Kentucky
2014
chromogenic color print
25 1/4 x 36 1/4
Jeanine Michna-Bales
Eagle Hollow from Hunter's Bottom
Just across the Ohio River, Indiana
2014
chromogenic color print
25 1/4 x 36 1/4
Jeanine Michna-Bales
On the Way to the Hicklin House Station
San Jacinto, Indiana
2013
chromogenic color print
17 1/4 x 24 3/4
Jeanine Michna-Bales
Look for the Gray Barn Out Back
Joshua Eliason Jr. barnyards and farmhouse, with a tunnel leading underneath the road to another station, Centerville, Indiana
2013
chromogenic color print
25 1/4 x 36 1/4
Jeanine Michna-Bales
Liberty to the Fugitive Captive
Waiting for the all clear to head to the Captain John Lowry
Station, Lodi Plains Cemetery, Nutting's Corner, Michigan
2014
chromogenic color print
25 1/4 x 36 1/4
Jeanine Michna-Bales
Within Reach
Crossing the St. Clair River to Canada just south of Port Huron, Michigan
2014
chromogenic color print
25 1/4 x 36 1/4