Call for Employment
New Bedford Art Museum/ArtWorks! is run by a hard-working, full-time & part-time staff, as well as, volunteers and interns.
---
Art Studio Instructors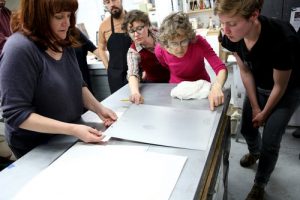 New Bedford Art Museum/ArtWorks! is looking for instructors for our Summer art classes. The ideal candidates will have experience teaching students between the ages of 6-13 and will be well versed in their specific field of art. Teachers will be expected to manage classroom projects, students, and safety. The goal of this program is to create a welcoming educational environment for a diverse student body.
We are currently seeking instructors with experience in multiple mediums: Drawing, Painting, Collage, and Digital Arts.
Pay is per hour dependent on experience.
Requirements:
Strong communication skills with the public, artists/educators, students and donors.
Work closely with the staff to create a positive and welcoming atmosphere.
Requires a degree in education, art education, the arts or a related field.
Ability to work with diverse students to reach their creative potential.
Accompany children on short field trips.
To apply, please send a cover letter, resume, to [email protected]
No phone calls. Position open until filled.
---