Exploring My City Through Art
ENROLLMENT IS closed
---
Have fun exploring drawing, painting, illustration, and having creative fun. Get your own free take-home art kit then join us for a video lesson on our YouTube page – this is a great way to keep the kids busy this spring.
Free Art Kit pick up is available every Thursday + Saturday: 2 – 4 PM, April 29 – May 29, 2021, at New Bedford Art Museum/ArtWorks! located at 608 Pleasant Street in downtown New Bedford.
The student survey must be completed before the first art kit can be received.
Please email [email protected] for more information.
Download a pdf of the flyer here | Português |  Español |
About the Program  Enrolled students will receive special access to virtual field trips and more. New Bedford students will be able to participate for FREE. This program is designed for children in grades 4-5.
A limited number of Chromebooks are available to help students connect with us online. Please email [email protected] for more information.
---
NEW! LESSONS
spring 2021 
Lesson 1: Paper Mask Create your own mask with Alison!
Click here to download the activity
---
PREVIOUS LESSONS
WINTER 2021
SPRING 2020  & FALL 2020 
Click to download activities from your favorite episodes!
---
About Alison Wells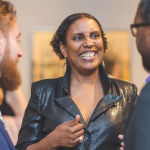 Alison Wells is a Trinidadian artist whose paintings have been exhibited in solo and group exhibitions in galleries and museums in the United States, the Caribbean, and Europe. Wells received a MFA from the University of Massachusetts, Dartmouth, in Dartmouth, Massachusetts and a BFA from the Edna Manley College of the Visual and Performing Arts in Kingston, Jamaica. Her paintings are part of private, public and corporate collections. Click here to read more!
---
Funded in part by the City of New Bedford's Invest in Kids Program, the Department of Elementary and Secondary Education, the Island Foundation, and the Barr-Klarman Massachusetts Arts Initiative