What is a Pop Up Studio? A Pop Up Studio is a temporary place for people to jump-start their thinking and create together.
This summer and fall New Bedford Art Museum/ArtWorks! is inviting visitors to a curated experience in our new in-gallery Pop Up Studios. Here visitors can get creative with imaginative make-and-take activities that further explore our exhibitions. Visitors are invited to move through each experience (there are two studios) and allow the artwork to highlight their understanding and engagement with the artists and their work.
---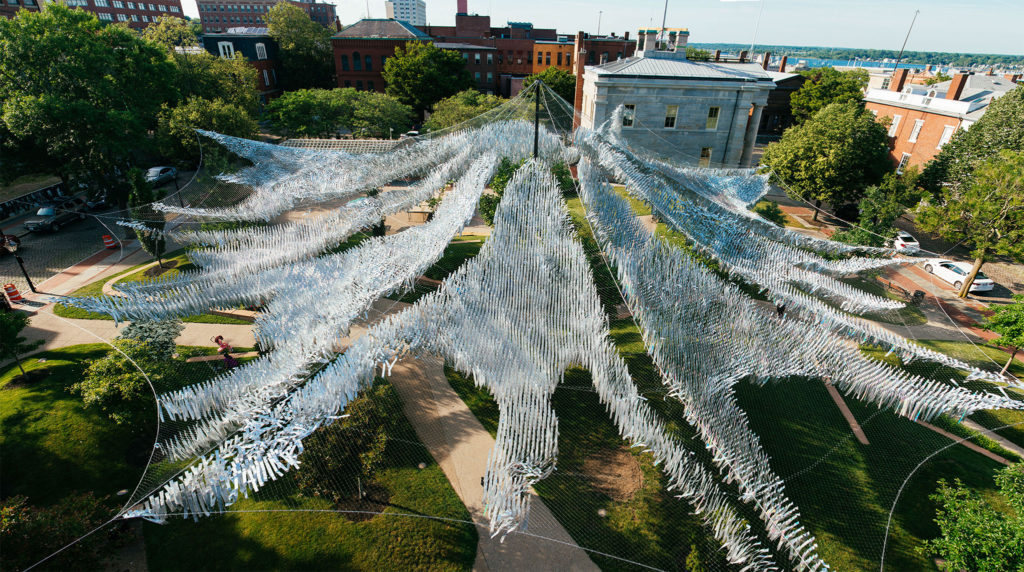 Light Reflections
August 22 – December 31, 2020
Light Reflections shares behind the scenes footage from public art projects produced by Massachusetts Design Art & Technology Institute, DATMA. This exhibition includes interviews from LIGHT 2020 and Summer Winds 2019 artists, such as Soo Sunny Park, MASARY Studios, and Poetic Kinetics. Guests can take home a complimentary all-ages DIY project inspired by Soo Sunny Park's Photo Kinetic Grid, which includes materials and guidance on how to make your own light artwork to exhibit at home.
Click here for more information about DATMA's LIGHT 2020
Soo Sunny Park Photo Kinetic Grid at CVPA Star Store
Soo Sunny Park Photo Kinetic Grid at CVPA Star Store
Soo Sunny Park Photo Kinetic Grid at CVPA Star Store
Soo Sunny Park Photo Kinetic Grid at CVPA Star Store

Soo Sunny Park Photo Kinetic Grid at CVPA Star Store

Soo Sunny Park Photo Kinetic Grid at CVPA Star Store