FIBER OPTIC CENTER NEW MEDIA GALLERY
presents
How to Make Slime
Video and sculptures by Eli Brown
---
Sustainable Identities from Eli Brown on Vimeo.
---
About the Artist
Eli Brown is a multi-disciplinary artist and organizer exploring the evolution of transness, in humans as well as in other gender-fluid species in the natural world.

Born 1986 in Boston, Massachusetts. Lives and works in Boston, Massachusetts. Eli Brown earned a BA from Smith College, Northampton, MA, and an MFA from the School of the Museum of Fine Arts at Tufts University, Boston, MA. 
Click here to visit Eli's website.
---
The EXhibition
lesbian separatist cabin

lesbian separatist cabin

Stonewall Inn's facade

Stonewall Inn's facade

lesbian separatist cabin

STAR House (Street Transvestite Action Revolutionaries)
---
Q&A with eli brown
Which queer historical landmarks are featured in the show? 
Included in this particular exhibit are 
Why did you represent actual and imagined cites? 
As queer and trans people, we are not always ma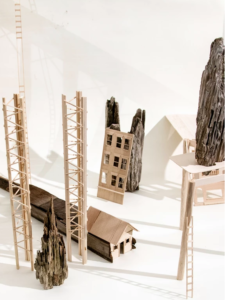 de aware of our histories, where queer life happened and congregated, and who it was that lived and died in order for us to embody these current versions of queerness and gender expression.  I only recently learned about lesbian separatist communities, for example, in my 30s.  Imagining what intentional, shared, and intimate community might look like, in my view, is a particularly queer past time. Since we don't always know about the actual ones, we imagine and create, deconstruct, and keep creating. 
The imagined, as well as the countless lesser-known spaces and places we create, are just as important as the known, historic ones, as they allow for a critical flow between privacy and visibility.
The balsa wood/driftwood combo is an interesting approach to creating architectural models. We are used to seeing the balsa wood in these sorts of models, but why the introduction of driftwood/the natural?  
Driftwood, in its death, supports a host of different living organisms, like bacteria, lichen, insects, and birds.  I wanted there to be a material co-creating these models that spoke to the past-present-future continuum I was trying to represent.  And, I also wanted to introduce the concept of non-human organisms often containing multiple genders, as important contributors to the construction of this little world.

Can you talk about the model in the gallery that is featured in the video? What is the model of? Why is it featured in the video?
The model is designed after a combination of stages from several different gay bars.  It is meant to represent the performative aspects of the idea: how even through the formulating, the rejecting, the non-thinking, all the most intimate moments of discovery, there is always a public waiting to interpret. 
"We are never done constructing our versions of belonging," can you expand on this?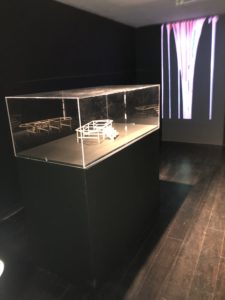 As a person who has experienced family rejection and homelessness, I have often struggled to feel at home, in my body, in my relationships, and in space.  I had to quickly re-configure for myself who my family was going to be, and what care and love really meant, and eventually, what I would want care and love to look like.  And, although at the time, re-learning these things was hard, now I see the people who entered my life, lovers and friends, this new family, were the ones who taught me the most about communication, accountability, and love.  These people allowed me to build my life in a way that now allows me to belong and co-create belonging in relationships.
I think when you can understand vulnerability as a shared experience, and especially when your shared experience is a source of vulnerability, you recognize that a certain amount of risk is involved in living your life.  And that recognition, especially when shared, creates a personal stake and investment in lowering that risk.
I think what it looks like to share this investment changes a lot, because we enter into new relationships and are committed to being open to understanding and learning ourselves as we change. Thus, this continual process of reconstructing what it means to belong in our community, our bodies, and our futures.
The video is about "the evolution of an idea in private and public space."  What did you discover about public and private space when you were making the video?
I am currently convinced that there really is no such thing as a private space for an idea.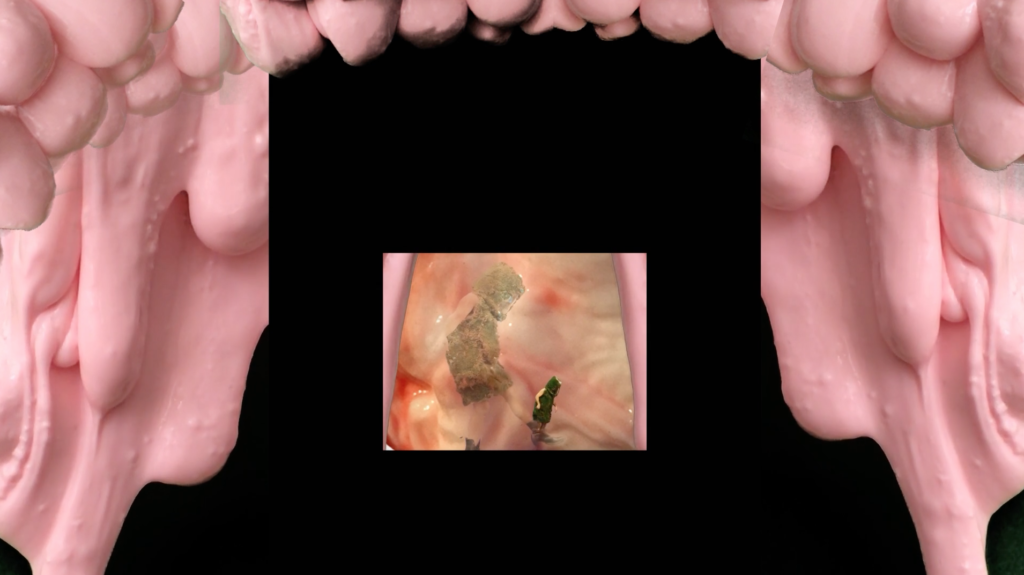 Talk about the Slime. How do you see us, as a culture, cultivating Slime (that thing, the idea that eludes, drives, and sometimes punishes us)?  Can you give an example of Slime as a negative thing and as a positive thing? 
Slime, in my metaphorical world, is always complicated.  It is representing play, imagination, the inexplicable, the great idea – all of which get squashed when we turn on screens or rely on GPS devices to help us navigate from one place to another.
I think, as a maker, I try and invite Slime into my mind as much as possible, and am often hungry for more.  When it flows freely, I feel rewarded and inspired.  And when it eludes me, I feel stuck, uninspired, and depressed.  Cultivating Slime is very difficult.  It requires time, space, and quietude – none of which are easy to achieve.
I'm also interested in the phenomenon of very young people with youtube channels, creating educational content around making Slime.  How to Make Slime videos often have as many as 40 million views… Sometimes I see this phenomenon as a desperate attempt to reconnect with play, tactility, and fun, through the medium many of us now feel most comfortable with, the screen.
---
Click here to download an LGBTQ Glossary and here to get connected to the South Coast LGBTQ community.