Sound in Space, Sound in Place
The New Bedford Soundscape
The New Bedford Art Museum has invited local New Bedford residents to submit short audio recordings documenting sounds that contribute to New Bedford's sense of place—its "soundscape." The composer R. Murray Schafer (1933–2021) coined the term "soundscape" in the Sixties, defining it as the "sonic environment." Schafer believed that amidst rising noise pollution, it was more important than ever for people to listen to the sounds around them and to preserve those sounds that act as audible landmarks for towns, cities, and communities, helping to conjure a sense of home. Schafer's idea of the soundscape remains valuable for thinking through the importance of sound to place-making and local character, even if Schafer's distaste for technological noise is hard to swallow in an age when the sounds of industry, transportation, and Bluetooth speakers are as prevalent (and meaningful) as the sounds of birds and crashing surf. Listeners will be able to experience "The New Bedford Soundscape," a collective portrait of New Bedford comprising resident contributions, in two ways: via a listening station in "Sound in Space, Sound in Place," and via an online map scheduled launching in conjunction with the exhibition's opening. View the map below: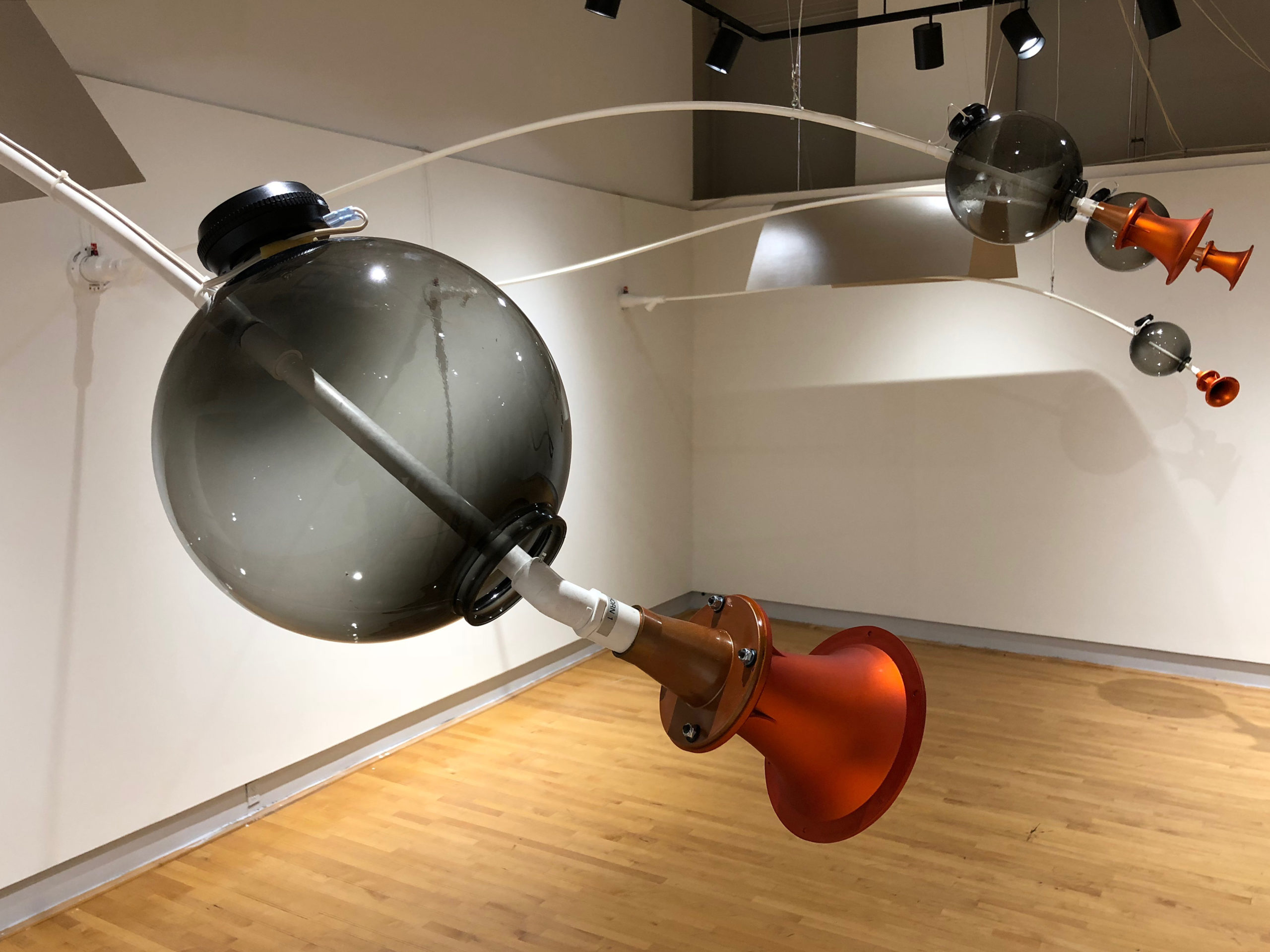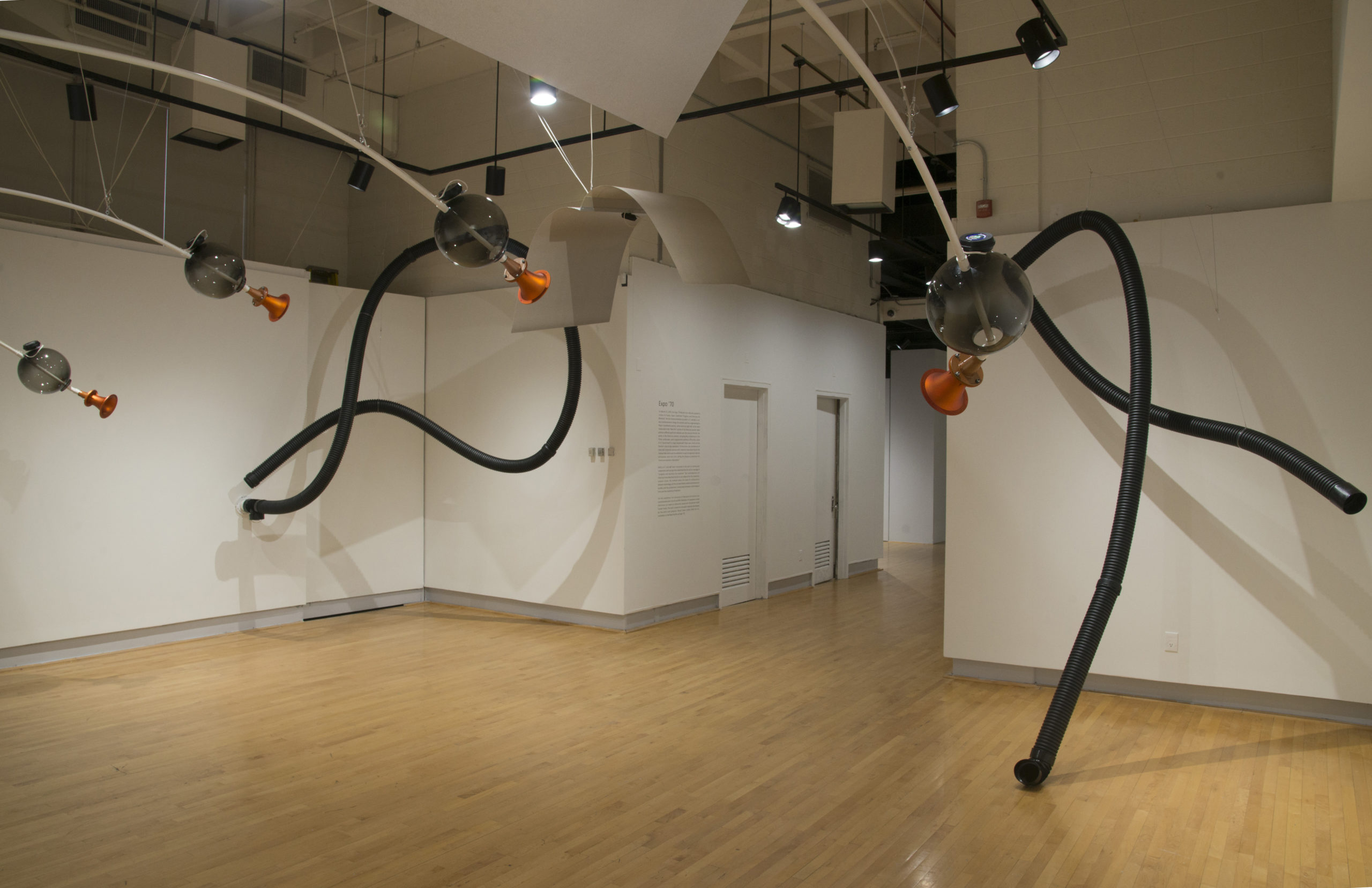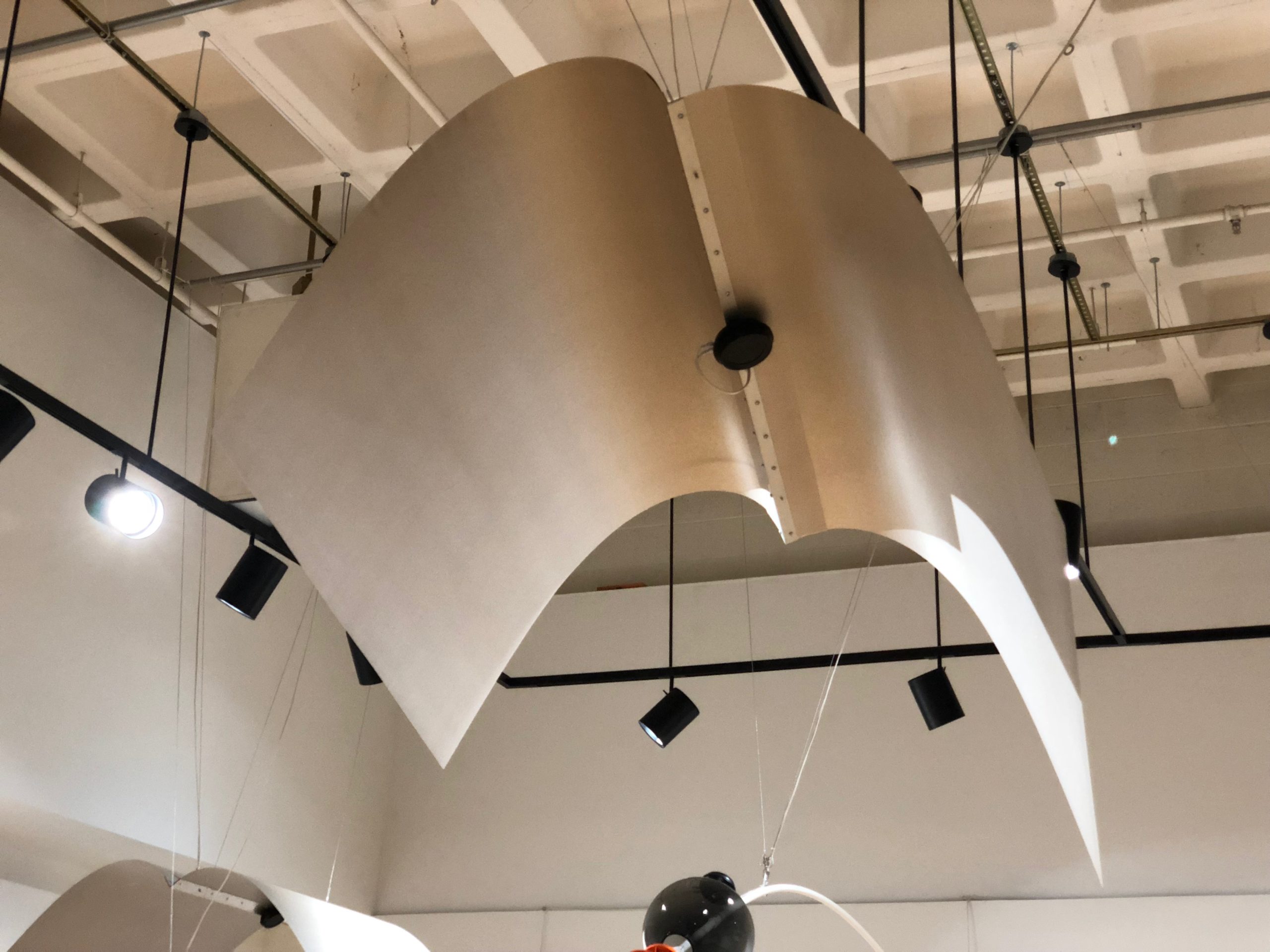 John Driscoll & Phil Edelstein
Cluster Fields
2018–2023
The centerpiece of "Sound in Space, Sound in Place" is Cluster Fields (2018–2023), a collaborative installation by John Driscoll and Phil Edelstein in which sculptural objects—snaking lengths of plastic tubing, cantilevered glass globes, and sheets of silvery mica, suspended from the ceiling overhead—are transformed into an unconventional sound-system. Conveying the vibrations and amplified sounds of various sound-generating devices, the objects hum, chatter, and vibrantly resonate. Arrayed throughout the exhibition space in clusters, they create focused sound fields that subtly shape-shift as visitors wander through them. As Driscoll and Edelstein write, the overall orchestration of Cluster Fields "allows the objects to sound both individually and together, offering a rich sonic space for audience exploration in and around the clusters."
The recorded sounds used to activate the objects in Cluster Fields are drawn from a wide array of material and biological sources. Included among the sound sources for this staging of Cluster Fields are processed whale and seal sounds drawn from the New Bedford Whaling Museum's William A. Watkins Collection of Marine Mammal Sound Recordings and Data.
Cluster Fields draws on ideas—concerning resonance and the dynamic movement of sound through space—that Driscoll and Edelstein have been pursuing for decades, both in the context of their own individual practices, and in their close collaboration with pioneering musician David Tudor (1926–1996). Driscoll and Edelstein played a critical role in the development of Tudor's landmark sound installation Rainforest IV (1973), an intricate exploration of resonance and an influential prototype of sound art that celebrates its fiftieth anniversary this year. Since Tudor's passing, Driscoll, Edelstein, and other members of the performance group Composers Inside Electronics (CIE) have worked tirelessly to keep Rainforest, and the ideas it embodies, alive. Cluster Fields carries echoes of Rainforest forward just as it cultivates its own unique listening experience, modeling entirely new uses of sound as an artistic material.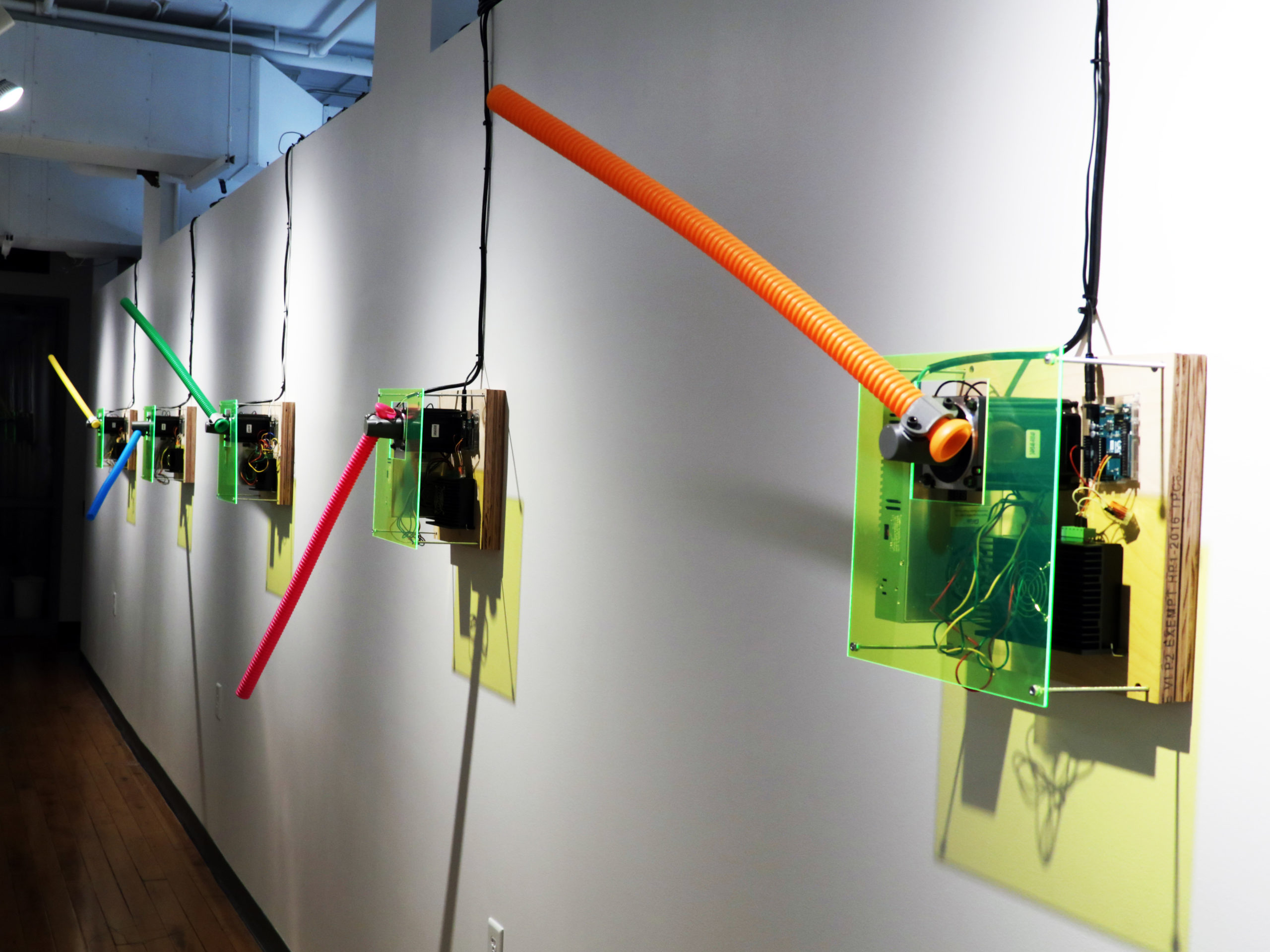 Tess Oldfield
Whirly Chorus
Composition No.4
2021
Whirly tube, arduino microcontroller, NEMA 34 stepper motor, stepper motor driver, power supply, plywood, acrylic 
Whirly Chorus is an instrumental series that combines a common children's noise maker, Whirly Tube, with electronic interfaces. A whirly tube also known as a bugle resonator, Free-Ka or corrugaphone is an experimental instrument made of ribbed plastic tubing. Open at both of its ends, the faster the speed the higher the note it produces in a harmonic series. By combining this analog instrument with digital interfaces, Oldfield has been able to push the whirly tube beyond human limits. Oldfield is currently exploring music composition by designing multiple instruments using physical computing. The process of transforming found instruments into digital installations allows the work to engage with contemporary new media practices and experimental music composition. 
"Sonic Textures of Place": Experimental sound works by UMass Dartmouth students
This component of "Sound in Space, Sound in Place" proudly spotlights experimental sound works produced by students in co-curator Professor Walker Downey's Spring 2023 seminar on sound-recording, audio-editing, and sound art. For their second major assignment, students in the class have been asked to produce two-to-five-minute compositions of recorded sound that strongly articulate the identity of a particular place and their feelings associated with it. Students were instructed that the place in question can be small in scale (for example, a room), or vast (an entire town or city), and they were permitted to use any sounds that they recorded themselves, as well as "found sounds" (scavenged from the internet or radio) and electronic tones and noise.
Scott Bishop
NBWaves
NBWaves, created with support from the New Bedford Whaling National Historical Park, is a six song EP that bakes the sonic DNA of New Bedford into the music using samples recorded around the city. These sounds were recorded on MacArthur Drive on New Bedford's working waterfront and on a Whaling City Expeditions tour boat in New Bedford Harbor; and at Buttonwood Park Zoo, Moby Dick Brewing, the New Bedford Whaling Museum, and PLAY Arcade. The sounds were heavily processed and transformed into synths and rhythm elements in the process of writing and recording the songs. The material on the EP is as diverse as the places where the original sounds were recorded, moving from dream pop ("Polaroid Dreams") to punk protest ("No Country") to ambient ("The Gull Catcher").
Scott Bishop, aka Scapeghost performs his six-song EP, NBWaves, April 28, 6-8pm