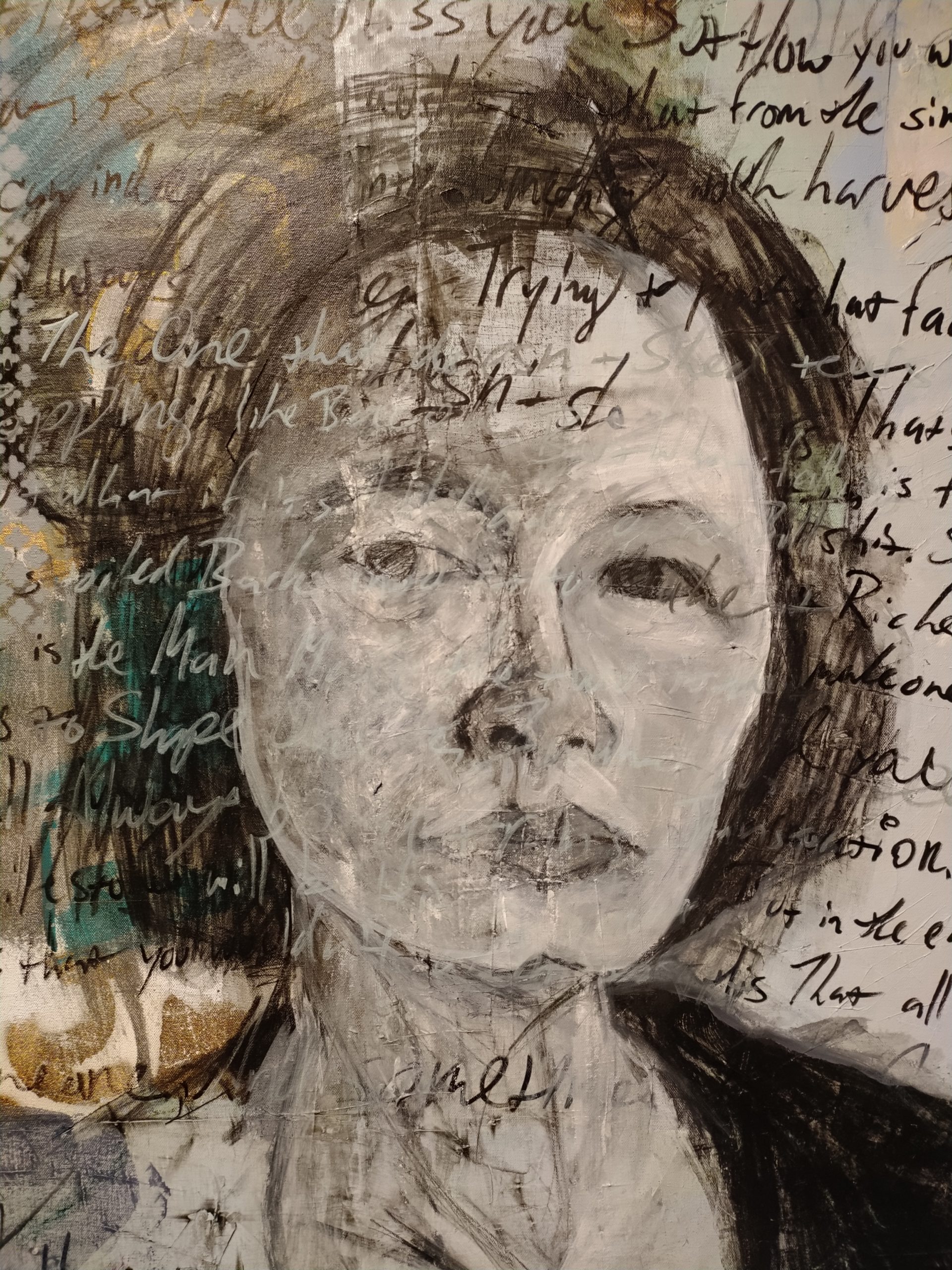 December 4, 2021 – May 8, 2022
Juror: Stephanie Haboush Plunkett, Deputy Director and Chief Curator of the Norman Rockwell Museum
Each year, New Bedford Art Museum puts out a call to members inviting them to submit their artworks to be considered for the show, and each year the museum is excited to see what its community has been making.
Nancy Whitcomb's Dog Eat Dog World was awarded Best in Show. Susan Gilmore's Blustery was the first runner up and Dora Atwater Millikin's Nantucket Light Ship was the second runner up. The honorable mention and staff pick were Susan Costa's Red Bag and Elizabeth Stanton's Waiting on Citrus to Ripen, respectively.
This year's members who passed juries include Adrian Tio, Allen Constant, Barbara McDowell, Bill Popik, Brittany Grimes, Carol Scavotto, Carole Constant, Chip Davenport, Corinna Raznikov, Danya Bichsel, Deb Smook, Denn Santoro, Dora Atwater Millikin, Elizabeth Stanton, Emmett Barnacle, Eric Lintala, Helen Bryant, Iwona Lapczyk, JP Powel, Jane Bregoli, Jane O'Hara, Jill Law, Jim Sears, Judith Klein, Keith M. Francis, Kendra J. Conn, Kim Barry, Kristina N. Occhino, Lelia Stokes Weinstein, Lynne Byers, Marty Keating, Mary N. Hurwitz, Mia Pelletier, Milton H. Brightman, Morgan Spaulding, Nancy Whitcomb, Ray Genereux, Robert Dunn, Ron Fortier, Roy Rossow, Skip Treglia, Susan Costa, and Susan Gilmore.
In Residence: NPS AIR + CAIR Alumni Exhibition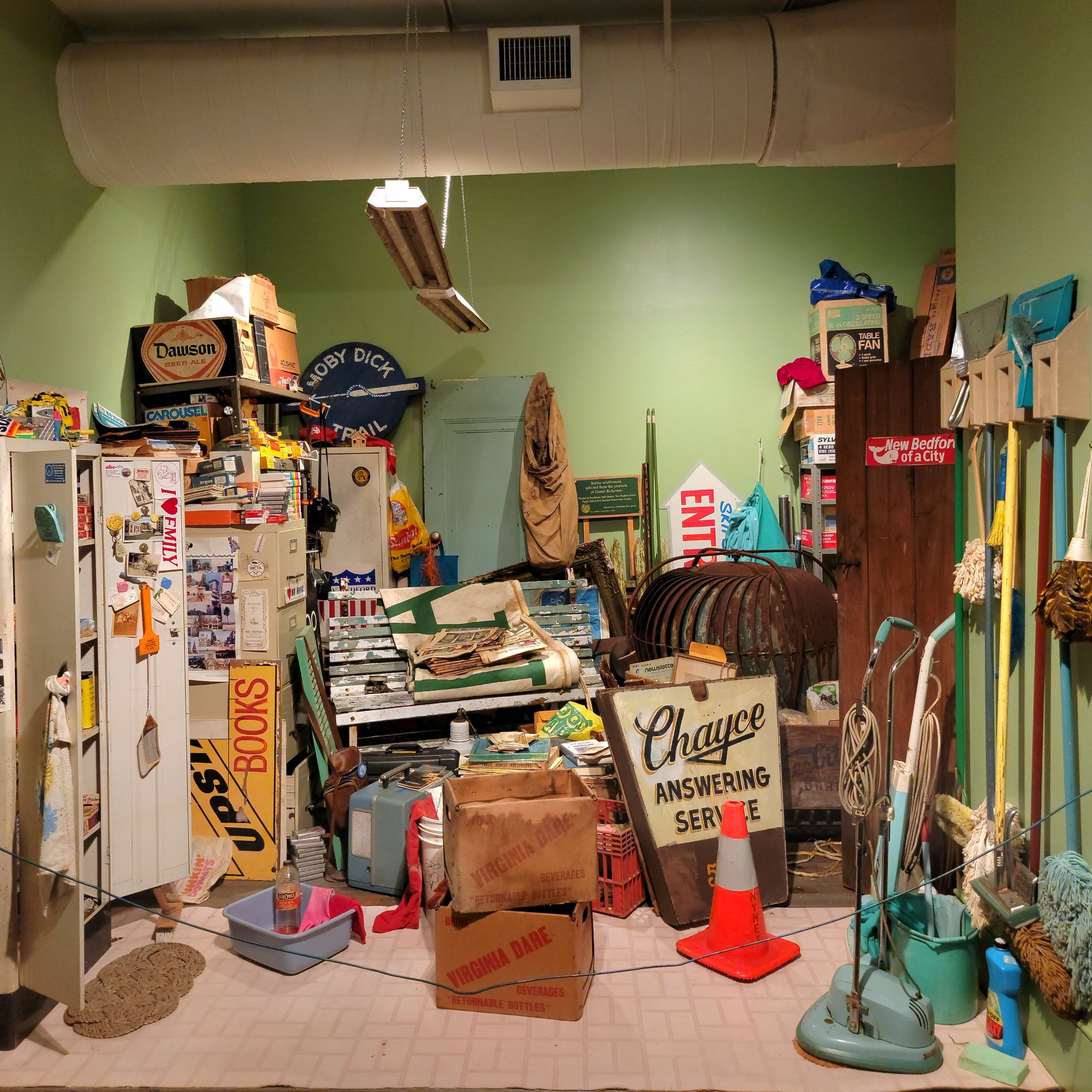 June 9, 2022 - November 13, 2022
New Bedford Art Museum and New Bedford Whaling National Historical Park proudly presented IN RESIDENCE: NPS AIR + CAIR ALUMNI EXHIBITION. Both the Art Museum and the National Park Service have hosted local creatives in their Artist-In-Residence programs and were honored to invite alumni to showcase their works in a group exhibition at NBAM/ArtWorks!. The programs offer local artists space, time, and resources to develop their work and are designed to create access points for artists and community members to engage more deeply with our collective stories.
Alumni Artists:
Amy Araujo
Iva Brito
Dan Borelli
Fitzcarmel LaMarre
Wanda C. Medina
Sandra Santos
Carl Simmons
Dawn Spears
Deana Tavares
Andrew Tedesco
One Whale Makes Seven Shores Prosperous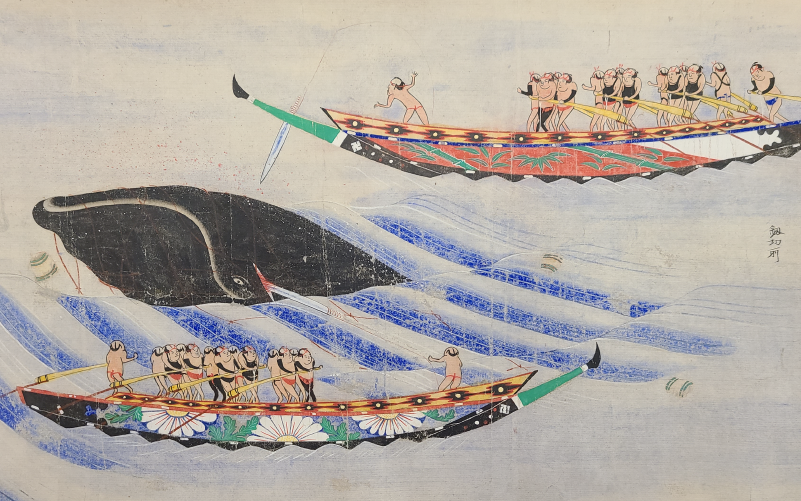 February 11, 2022 – June 6, 2022
From the Collection of the New Bedford Free Public Library
Traditional Japanese whaling was a community enterprise that created wealth and work for coastal towns in Japan during the whale's migratory season. The bounty of food and other goods made from a whale was a big boon to the local economy, exemplified by the proverb Nana ura tairyo hanjo no zu or "One whale makes seven shores prosperous." This whaling scroll from the library's collection includes beautiful illustrations of the whales, tools, and methods used to hunt whales in Japan during the 18th century.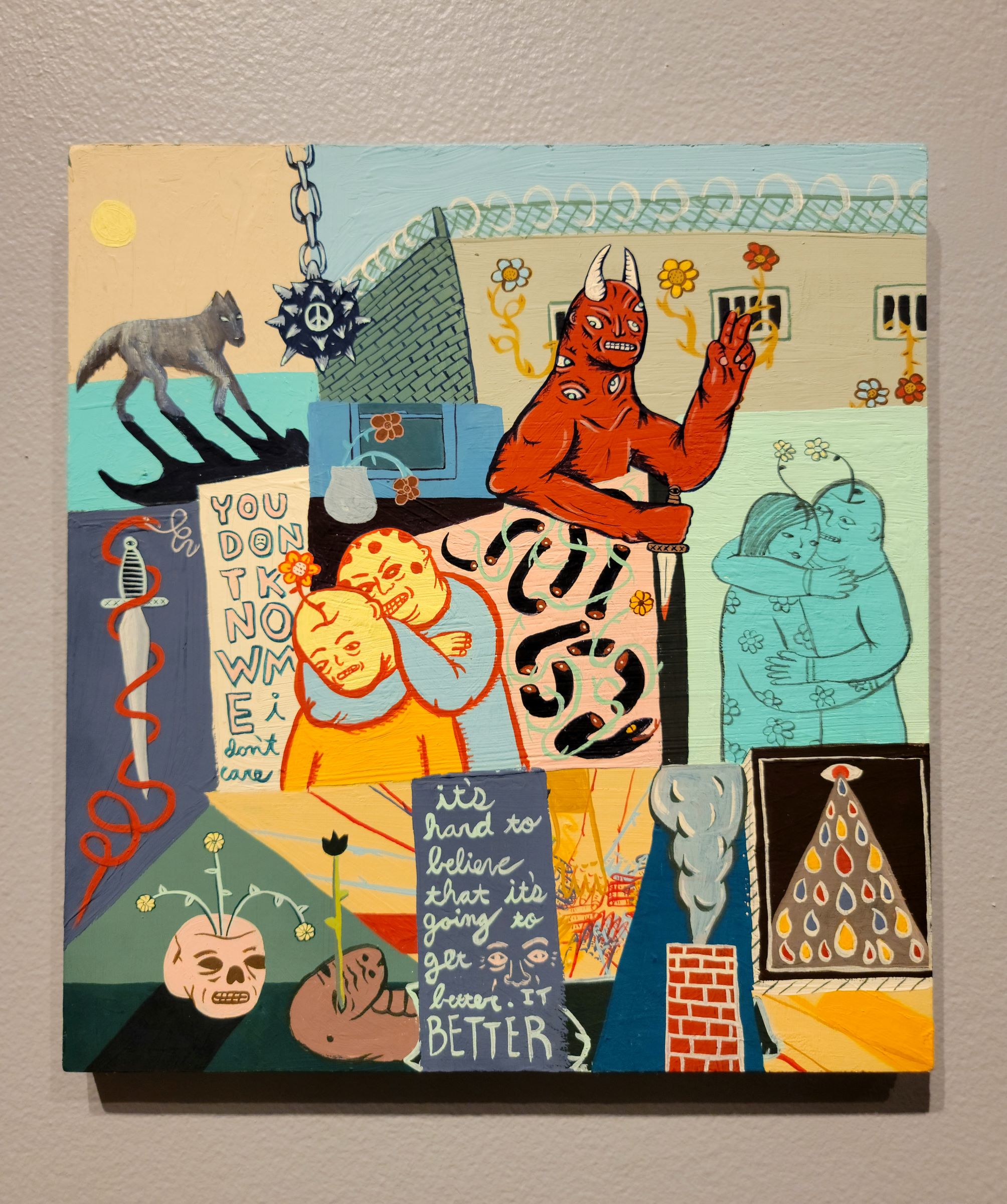 April 30, 2022 - September 11, 2022
Joe Banda was born and raised in Bristol Connecticut. After struggling through high school academically and socially, he eventually went on to study fine art and illustration at Delaware College of Art and Design and Montserrat College of Art earning a Bachelor's Degree in Fine Art. During the ups and downs of college and a few failed career choices, Joe discovered his love for painting. Combining the tight rules of illustration with the loose nature of non-objective painting; Joe discovered a happy medium, where he could truly express himself. Joe now resides in Beverly, Massachusetts with his wife and daughter.
The Triumphs of Alexander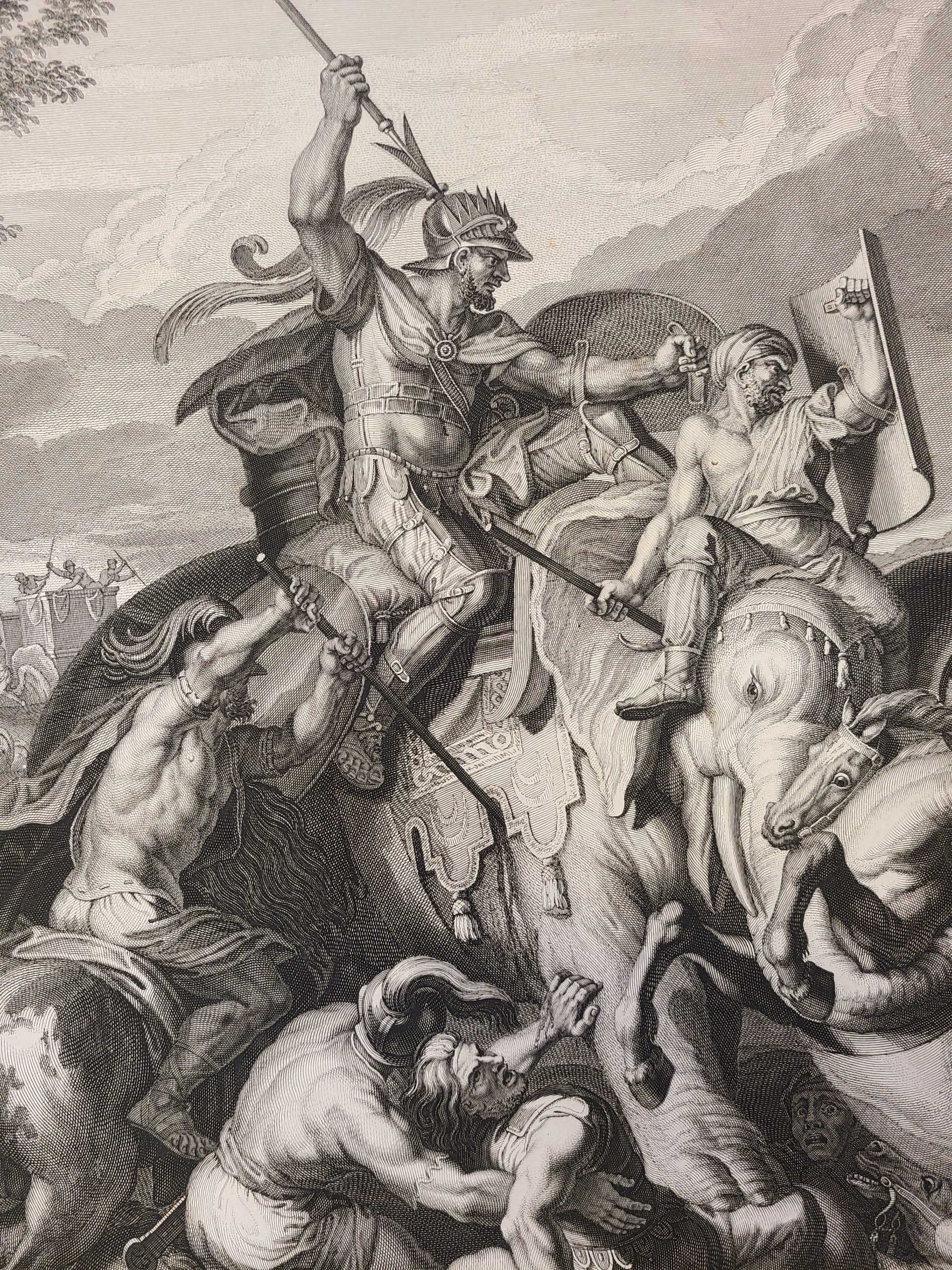 July 1, 2022 – November 17, 2022
From the Collection of the New Bedford Free Public Library
Louis XIV, King of France from 1643 to 1715, was known for surrounding himself with the brightest minds of his time, including Politicians, Artists, Musicians, and Writers. Among these was Charles Le Brun, who Louis XIV commissioned to paint a series of grand pictures depicting the triumphs of Alexander the Great, with whom the Sun King felt a sense of kinship.
Charles Le Brun had been a painter in the royal service since 1647, but after the king commissioned this series and was presented with the first of the paintings, he was elevated to Premier Peintre du Roi (First Painter of the King). 
While these paintings were meant to flatter the king with their comparison, they also exemplify Le Brun's career, from the very beginning of his success with Alexander Before the Family of Darius to the completion of a triumphant series and the cementing of his personal style with Alexander and Porus, and ending with a late-in-life revisiting of the same subject in The Defeat of Porus.
Comfort & Displacement: The Art of Richard Neal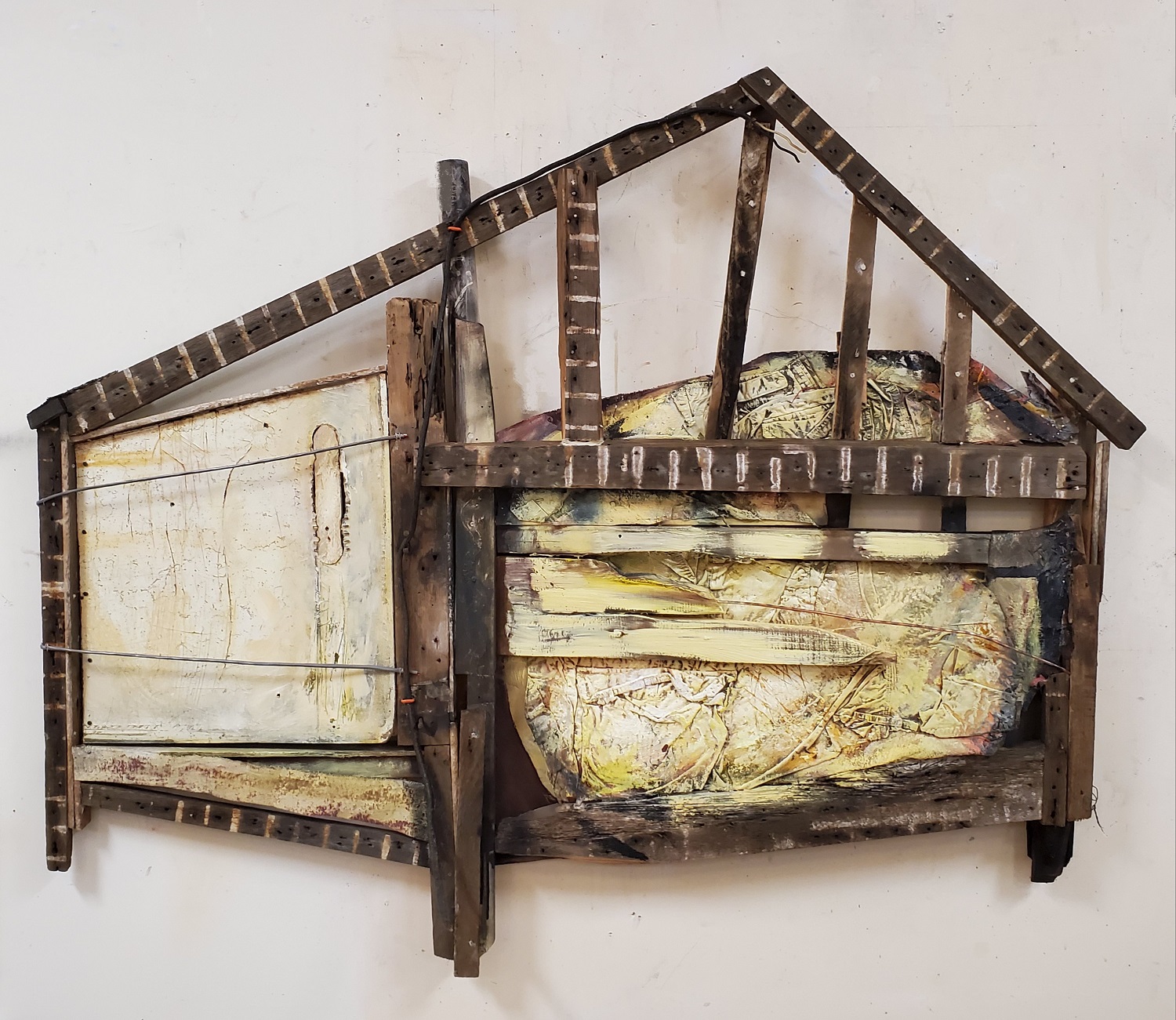 November 17, 2022 - February 26, 2023
Recent abstract paintings and wall hanging sculpture by Richard Neal. Organized by our independent guest curator, Don Wilkinson. Curator's statement:
"Richard Neal's paintings and assemblages do not fit into any neat category. The work hovers in that nexus between the representational and the abstract, flirting with both but married to neither. It is tumultuous and yet somehow reserved. It is 'all-up-in-your-face' dramatic while it leans in and whispers to the patient viewer.
The work that I selected for this exhibition was created over several years and while I did not consciously seek out a common narrative, one made itself manifest. Throughout the work, backcountry shacks, suburban houses, apartment buildings and skyscrapers unrelentingly take center stage. But none of those structures read as happy homes. Not anymore.
The exhibition is called 'Comfort and Displacement' as this selection of work evokes a palpable sense of loss. The abodes appear abandoned, the towers are tumbling, the boulevard in 'Big City' borders on the post-apocalyptic.
Comfort can rapidly evaporate. Slow or sudden displacement-- brought about by divorce, abandonment, foreclosure, gentrification, terrorism, war or a hundred other reasons-- is part of the human condition.
Neal's work forces us to confront that discomforting thought and take notice."
Lemuel Eldred: Whale Ships at Wharves, Painter's Prints of a Bygone Era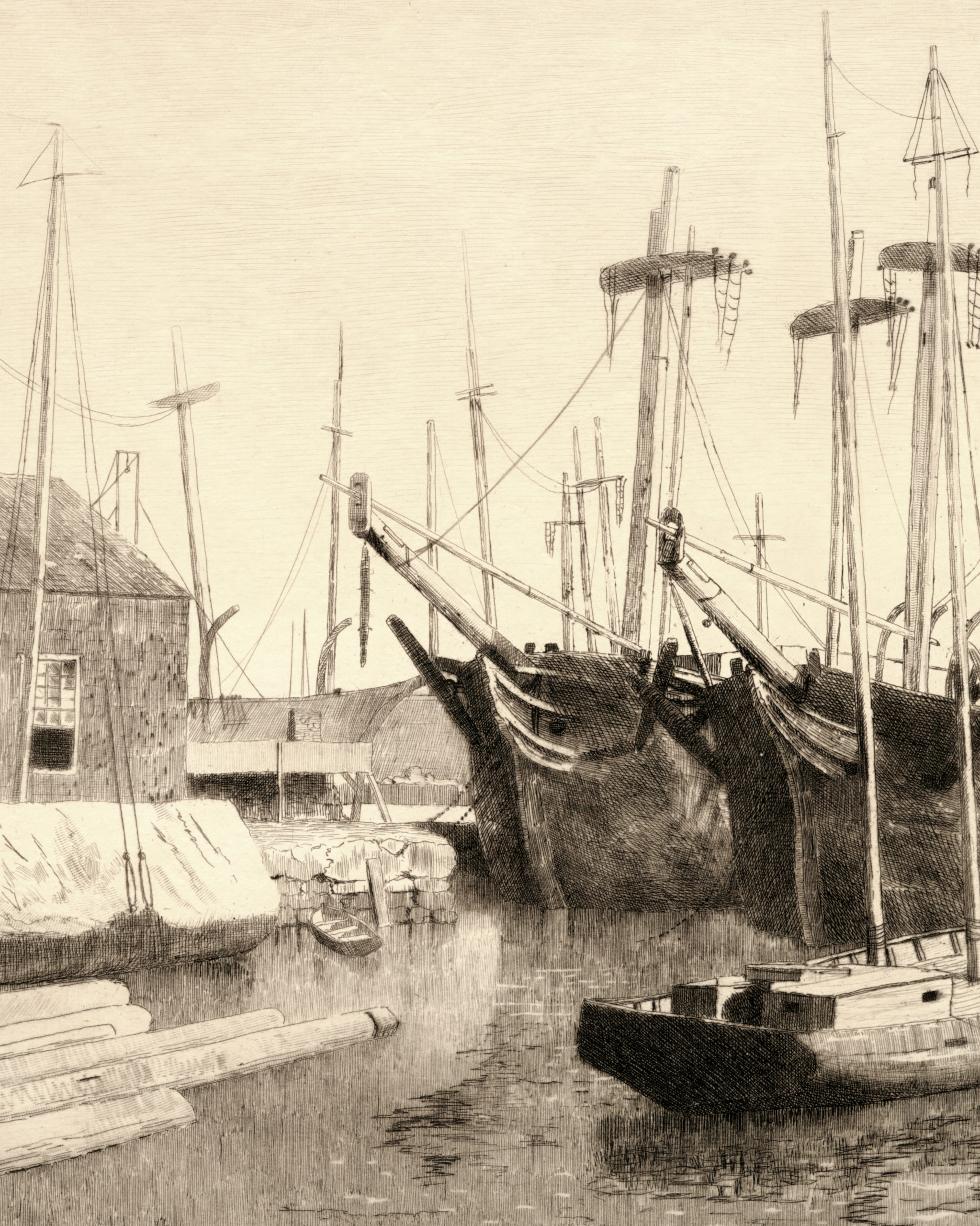 December 1, 2022 - February 19, 2023
Mentored in the studio of William Bradford, Lemuel Eldred was a Fairhaven artist, well known for painting marine and desert scenes, and later as a printmaker.
As the whaling industry drew to a close at the end of the 19th century, Eldred captured the return of the ships as they docked in New Bedford for decommissioning.
Eldred's preferred technique for this potentially sentimental subject was etching because he strongly felt it to be the best vehicle for direct expression.
Elegiac and elegant, Eldred's prints faithfully capture the retired vessels' quiet majesty resting at their final destination, in the city in which they originated, the city that for a time lit the whole world.
Yarn/Rope/String: Fiber Art Now Juried Exhibition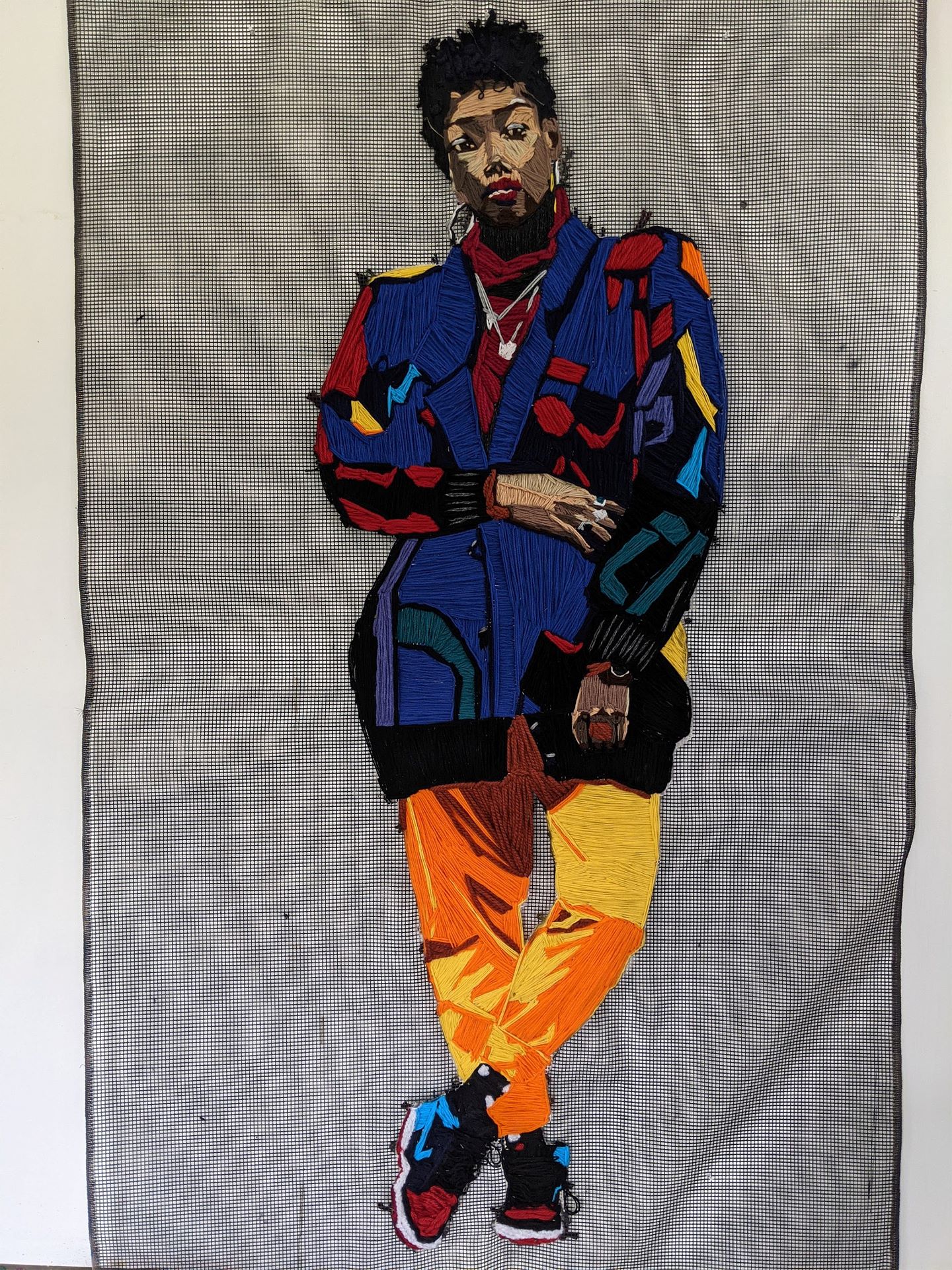 December 8, 2022 - March 12, 2023
The Fiber Art Now Yarn/Rope/String exhibitions were designed to encourage innovative use of fibers that artists incorporate into new and exciting works of art. The jurors for the 2021 and 2022 exhibitions in print had this to say about the expanse of this expressive niche of fiber art:
"Yarn/Rope/String features a selection of arresting pieces that showcase some of the best craftsmanship in fiber today. Whether grappling with the uncertainties of the age or deep in exploration of material and process, these pieces grab on and ask you to look closer, and for longer. Selecting from so many excellent submissions was no easy task, a sign of exciting things to come in the field. Above all, the works in Yarn/Rope/String prompt delight, wonderment, and contemplation through their skillful execution."
-crafthouston.org
Yarn/Rope/String 2021 juror and tapestry artist Micala Sidore stated, "It is terrific to see how many people choose fiber as a means to express themselves. Not all the work displays the same level of ability—it never does. But it testifies to the engagement of the makers. I seek work that makes the hair on the back of my neck stand up. The last of these criteria is what tells me that I am seeing something that is special." Over the past 40 years, Sidore has given talks, published more than 45 articles, and exhibited her own work in North America, Australia, and Poland. She is the author of The Art is the Cloth (Schiffer Books, 2020).
-hawleystreet.com
Yarn/Rope/String 2022 juror Michael F. Rohde has been weaving since 1973. His work is in the permanent collections of the George Washington University Museum, The Textile Museum in Washington, DC; the Mingei Museum in San Diego, California; the San Jose Museum of Quilts & Textiles in San Jose, California; the Ventura County Museum of Art in Ventura, California; the Racine Art Museum in Racine, Wisconsin; and The Art Institute of Chicago in Chicago, Illinois. "It is always a special privilege to be given the chance to see a large body of work, but a challenge to select only a few," said Rohde. "Some of the things I looked for and found include excellence in craftsmanship, new ways of expressing ideas with fiber, and occasionally work that addressed what happens outside of the studios yet impacts us all. Not all works embodied all criteria. This led to a selection that was diverse and hopefully with some things that are new to each of us."
-michaelrohde.com