At New Bedford Art Museum it is part of our mission to bring creative experiences to our community. Return to this page to get updates on events for the whole family and special events such as our holiday and summer fundraisers.
AHA! (Art, History & Architecture) is New Bedford's free Downtown Cultural Night and collaborative cultural organization with over 60 downtown venue partners. On the second Thursday of the month, New Bedford Art Museum offers free admission, extended hours (we're open until 8 pm), crafts, and other experiences, such as live performances.
State of the Union by Jane O'Hara
Opening reception
June 8th 5-7pm
Opening reception for the State of the Union exhibition by Jane O'Hara. Show your Pride, color a flag and celebrate your unique identity.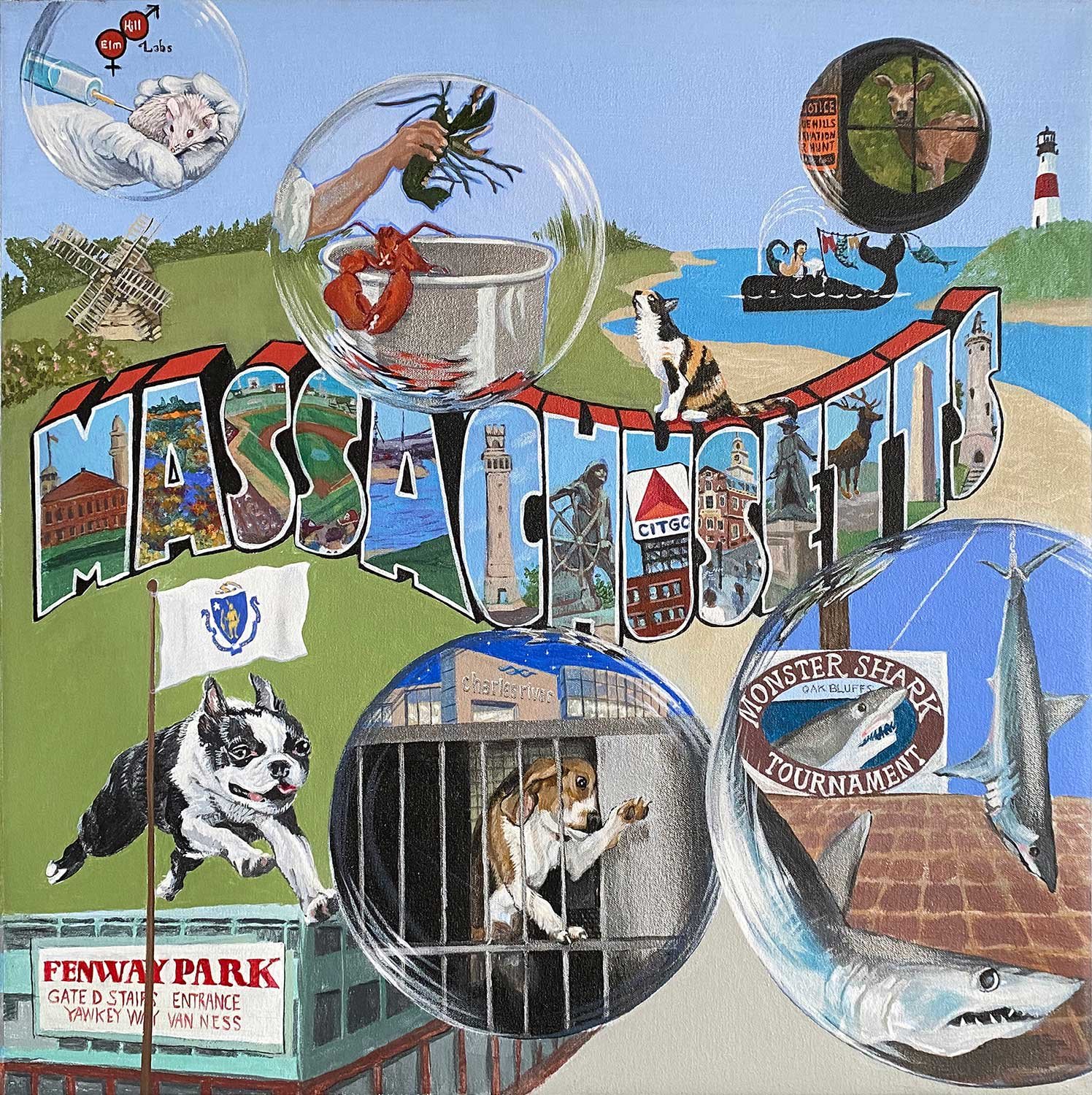 Annually the New Bedford Art Museum hosts a summer fundraiser to support the Museum's mission to present vibrant contemporary art exhibitions and related programs. Your attendance at programs such as these as well as donations ensure that the Museum can provide programming for all the members of our community. Stay tuned for event details and a "Save the Date" announcement.
Our annual Holiday Party is an important part of our fundraising efforts. This evening raises vital funds to bring programs to youth, teens, and aging adults by removing barriers to access art and education.
Each year New Bedford Art Museum has been privileged to recognize individuals and organizations that have helped the arts succeed through their generous support and work in the community. Because of them, the arts flourish here in New Bedford.
December 2021 marked the 8th anniversary of this tradition. The Patron of the Arts Program will resume in 2024.
Previous Patron of the Arts include:
2021- Gayle and Roger Mandel & New Bedford Historical Society
2020 - Norm and Irene Buck & New Bedford Symphony Orchestra
2019 - Allan and Priscilla Ditchfield & Ralph and Merry Eustis
2018 - Senator Mark Montigny, Rep Tony Cabral, and Your Theatre Inc.
2017 - Nelson Hockert-Lotz and The Standard-Times
2016 - Festival Theatre and Neal Weiss
2015 - Peter DeWalt and AHA!
2013 - Island Foundation, Community Foundation, City of New Bedford, and CVPA (known still as Off the Wall)
2012 - Gig Lang and UMass Dartmouth/Jeanne MacCormack (first honorees)