LEMUEL ELDRED: WHALE SHIPS AT WHARVES, PAINTER'S PRINTS OF A BYGONE ERA
DECEMBER 1, 2022 - FEBRUARY 19, 2023
Mentored in the studio of William Bradford, Lemuel Eldred was a Fairhaven artist, well known for painting marine and desert scenes, and later as a printmaker.
As the whaling industry drew to a close at the end of the 19th century, Eldred captured the return of the ships as they docked in New Bedford for decommissioning.
Eldred's preferred technique for this potentially sentimental subject was etching because he strongly felt it to be the best vehicle for direct expression.
Elegiac and elegant, Eldred's prints faithfully capture the the retired vessels' quiet majesty resting at their final destination, in the city in which they originated, the city that for a time lit the whole world.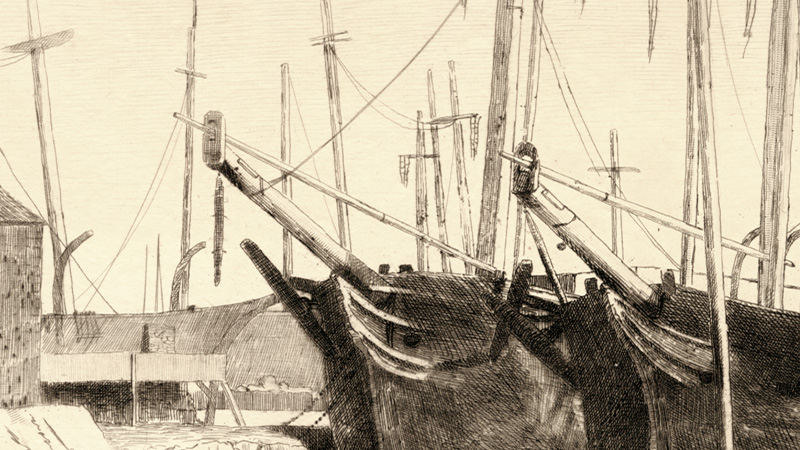 COMFORT AND DISPLACEMENT:
THE ART OF RICHARD NEAL
NOVEMBER 17, 2022 - FEBRUARY 26, 2023
Recent abstract paintings and wall hanging sculpture by Richard Neal. Organized by our independent guest curator, Don Wilkinson. Curator's statement:
"Richard Neal's paintings and assemblages do not fit into any neat category. The work hovers in that nexus between the representational and the abstract, flirting with both but married to neither. It is tumultuous and yet somehow reserved. It is 'all-up-in-your-face' dramatic while it leans in and whispers to the patient viewer.
The work that I selected for this exhibition was created over several years and while I did not consciously seek out a common narrative, one made itself manifest. Throughout the work, backcountry shacks, suburban houses, apartment buildings and skyscrapers unrelentingly take center stage. But none of those structures read as happy homes. Not anymore.
The exhibition is called 'Comfort and Displacement' as this selection of work evokes a palpable sense of loss. The abodes appear abandoned, the towers are tumbling, the boulevard in 'Big City' borders on the post-apocalyptic.
Comfort can rapidly evaporate. Slow or sudden displacement-- brought about by divorce, abandonment, foreclosure, gentrification, terrorism, war or a hundred other reasons-- is part of the human condition.
Neal's work forces us to confront that discomforting thought and take notice."
Opening reception: Thursday, December 8, 6-8pm.
YARN/ROPE/STRING
FIBER ART NOW JURIED EXHIBITION
DECEMBER 8, 2022 - MARCH 12, 2023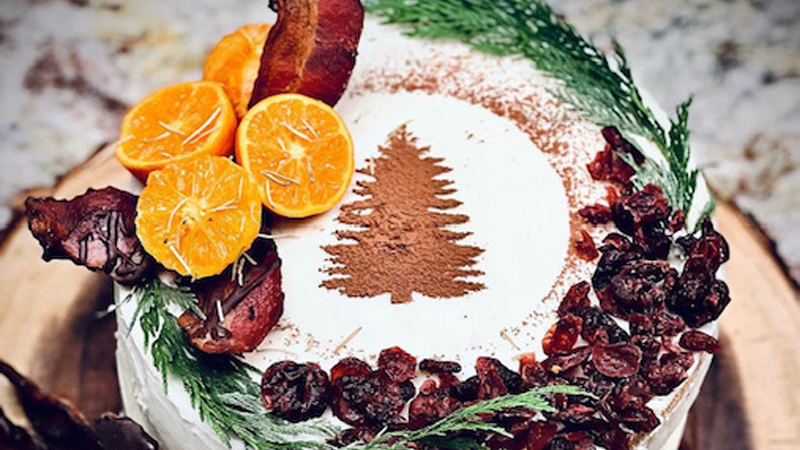 CAKE SMITH GALLERY
CHRISTOPHER FURTADO-AMBAR
DECEMBER 8, 2022 - DECEMBER 23, 2022