Annual Members Exhibition: Call for Entries
June 24, 2020 – November 8, 2020
UPDATE! New Bedford Creative's Wicked Cool Places is sponsoring our 2020 Members' Exhibition. This sponsorship has made it possible for us to waive your entry fees! Due to the COVID-19 crisis, the exhibition will be virtual and therefore we have also lifted the "small works" restriction.  Member artists working in any medium and scale can submit up to three works for free. 
Thank you to our amazing sponsor!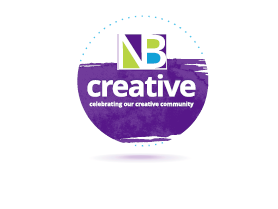 ---
CALL FOR ENTRY
New Bedford Art Museum/ArtWorks! (NBAM) is seeking artists to have their artwork showcased in the juried Annual Members Exhibit. NBAM will award three cash prizes to the top three artworks selected by the Juror.
---
ELIGIBILITY 
Artists must be active NBAM Members. 

Not a member? Click here.

Each artist may submit up to three pieces for consideration.
---
DATES
Application for Submission Opens: Friday, April 3, 2020
Members Submission Deadline: Friday, May 22, 2020, at 5 PM 
Inform Selected Artists: Friday, Jun 5, 2020, before 5 PM
---
CATEGORIES FOR ORIGINAL ARTWORK 
Painting, drawing, mixed media, sculpture, photography, ceramics, fiber, metals, glass, wood, installation, printmaking, performance and video.
---
PRIZES
NBAM will offer three cash prizes to the top three artworks selected by the Juror:
Best in Show: $100
First Runner-Up: $75
Honorable Mention: $50 
---
JUROR 

Dina Deitsch
Director and Chief Curator of Tufts University Art Galleries
As Director and Chief Curator of the Tufts University Art Galleries, Dina oversees the temporary exhibitions and public programs at the Aidekman Arts Center on the Medford campus and at the SMFA at Tufts Boston campus in addition to the university's Permanent Art Collection.  She also organizes contemporary art exhibitions and chairs the University's Gifts of Art and Public Art Committees. Before Tufts, Dina was the Interim Director Carpenter Center for the Visual Arts, Harvard University. She was the Director of Curatorial Projects at Goodman Taft, and the Curator of Contemporary Art at the DeCordova Sculpture Park and Museum.
---
ELECTRONIC ENTRIES  
All entries must be submitted electronically to [email protected]t.org. 
There is no registration form – please send your images and information via email. 
Submissions received after Friday, May 22, 2020, at 5 PM will not be considered.
Images should be in JPG format and be between 72-100 dpi. Each file should be named as follows: Last name, first initial, number 1-3, and abbreviated title. 
Video submissions: please send a link to your video.
Emails should include a title list which consists of the following:
Name

Phone number

Mailing address

Email

Title

Materials

Size (LxWxH)

Year the piece was created

Declared insurance value
Professional images are encouraged, as only clear quality images will be seen by the juror and on the website. Museum staff members are not available to aid in the editing or generation of images. 
EXAMPLE
Smith_S_1_mrcats.jpg
Smith_S_2_tree.jpg
Smith_S_3_nbb.jpg
EXAMPLE OF TITLE LIST 
Sally Smith
333 Unicorn Rd., New Bedford, MA 02740
(555) 555-1234
[email protected]
Mr. Cats, acrylic on panel, 2014, 24×36" $2500

Tree Frog in the Breeze, mixed media 2014, 4×8" $400 

New Bedford the Beautiful, oak & maple with varnish 2014, 4x2x5' $10,000
---
Email [email protected]  with questions and to apply.