virtual Members Exhibition
July 1, 2020 – November 8, 2020
Welcome to the 2020 Virtual Members' Exhibition. Each year we put out a call to our members inviting them to submit their artworks to be considered for the show, and each year we are thrilled to see what our community has been making!
Explore the virtual exhibition, and stay tuned for Creative Convos and other supporting materials will be released throughout the run of the exhibition. Visit our Facebook at 6 PM on 7/9/2020 for the Juror's Choice Award announcements.
Sponsored by New Bedford Creative's Wicked Cool Places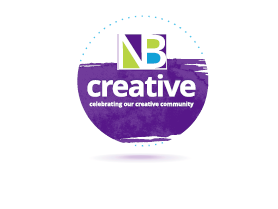 ---
THE EXHIBITION
2020 Members' Exhibition
Juried by Dina Deitsch, Director and Chief Curator of Tufts University Art Galleries
Featuring Adrian Tio, Alyson Therrien, Claudia Flynn, Deb Ehrens, Diana Arvanites, Dora Atwater Millikin, Helen Granger, Iwona Lapczyk, Jane O'Hara, Jason Fiering, Jill Law, Joe Quigley, JP Powel, Kate Couturier, Keith M. Francis, Kendra Conn, Lynn Clapham, Marissa Fay-Martin, Mary Belden Brown, Milton H. Brightman, Nancy Whitcomb, Pamela Hoss, Scott Bishop, Spencer Pepin, Taylor Hickey, Viera Levitt, Wendy Stern, and William Popik.  
---
THE ARTWORKS
The Road Home

JP Powel, 2018

A Cautionary Tale

Keith M. Francis, 2020

Milkweed II

Deb Ehrens, 2017

Scott

Pamela Hoss, 2020 (scroll over the image to view) ABOUT THE WORK: I taught a portrait class for ten years and found it to be invigorating. This winter I asked artists, former students and friends to sit for me. When the pandemic arrived in March I could no longer work from models. Therefore, in April I asked my husband Scott if he would be my model. Painting someone close to me had a profound effect on my expression.

Seventy

Pamela Hoss, 2019 ABOUT THE WORK: I have often used myself as a vehicle for expression through the use of mirrors. At times the portraits have been intimate investigations. Observing my full body in motion I have created large-scale theatrical narratives, that have helped elucidate my life as a woman and artist. Self-portraiture has allowed me to uncover and express inner truths. Currently, documenting the past with the present, I have been looking at myself through the lens of time, with a conscious awareness of age, gender, and loss.

Democracy, It's a Game

Keith M. Francis, 2018

Lithium and Food Saved My Life

Because Diet Pills, Adderall and Painkillers Made Starvation Sustainable and Invisible Under the Guise of a Fat Girl on a Diet (Lithium and Food Saved My Life), Kate Couturier, 2020 ABOUT THE WORK: My work is about fat: fat the shape, the texture, the mass, the body, and the identity. A fascination with the function of culture along with my struggles to understand my relationship with my body in the aftermath of an eating disorder drive my exploration of fat identity. My personal journey learning to truly see and trust my body within the context of a culture that condemns fatness, has become a practice in unlearning the internalized stigmas diet culture perpetuates. I am still in the process of relearning to celebrate food, fat and figure, but through this work I am recognizing within myself and others the amazing capability, beauty and strength of the unaltered, unashamed, unapologetic fat body. My artwork is a reflection and celebration of this process. The health, beauty and diet industries and the cultural constructs around the body that these industries create and uphold are primary sources of inspiration in my artwork as I explore what it means to inhabit a fat body in a thin obsessed, diet-centric world. Through fragmented paper bodies I confront issues of consumption, notions of beauty, and fat stigma, reject the idea of the magical default body our culture sells as a fantasy ticket to happiness and success, criticize the means by which we are told we can achieve this body (aka diet culture), and challenge a fatphobic health care system. I intend to break down the cultural biases and misconceptions around the fat body and for my work to serve as a reminder that every single body is worthy of nourishment, respect, happiness, and love.

Digital Humanity: Through the Webcam

Marissa Fay-Martin, 2020, video still

Turned Down: Stretcher

Jason Fiering, 2019

Turned Down: Paper Coverlet

Jason Fiering, 2019 (scroll over the image to view)

Beauty in the Beast - Photography of Brutalist Architecture; UMASS Amherst (Rhythm II)

Viera Levitt, 2020

A dying tradition, Chin Village, Myanmar

William Popik, 2016

New Order

Jane O'Hara, 2020

Topographies

Diana Arvanites, 2018

Leaves, He Leaves

Helen Granger, 2020

Tater Tottler at Sea

Helen Granger, 2020

WORLDVIE

Claudia Flynn, 2020

CEREBRAL SEED

Claudia Flynn, 2020

RESIDUUM

Claudia Flynn, 2020

Black Hole Blues

Taylor Hickey, 2019

The Weight of the World

Taylor Hickey, 2017

Pink Ikebana

Iwona Lapczyk, 2019 Though the subject matter of her work may vary, emotions and mood remain its constant theme. Recently she has developed an interest in creating multiple versions of the same painting. They look alike because of the identical subject, composition, and colors, but each version differs by a tone of her feelings. Interestingly, such a series of paintings may encompass a range of techniques, from a form-oblivious watercolor to a more-focused drawing style. Looking at these 'mirrors' of internal emotional landscapes brings us to a realization of how much we and our projecting self matters in perception of the 'reality' that is something that we really actively create.

Spring

Dora Atwater Millikin, 2020

Keep Your Distance!

Nancy Whitcomb, 2019

The Red Shoes

Nancy Whitcomb, 2019

Safari Landscape, South Africa

Alyson Therrien, 2017

Family Tree

Wendy Stern, 2020

The Pond

Wendy Stern, 2020

Reading Moby Dick

Joe Quigley, 2017

Boricua

Adrian Tió, 2019 I have always felt torn between two cultures - the suburban middle-class objectivity of my American birth, and the passionate sensitivity of my Latino heritage. I am of direct Puerto Rican decent, though born in the American Mid-West. A considerable amount of my studio research has been spent in developing a bi-visual means of communicating to both cultures through my artwork. These works are hybrids, combining elements of both mainstream America and exotic Hispania. The use of bright colors, rhythmic patterning and expressive imagery provides an opportunity to acknowledge my Latino heritage while enriching my mainstream identity.

Clearing

Kendra Conn, 2019

Self Portrait

Spencer Pepin, 2019

The Crystal Moment

Milton H. Brightman, 2020 A Beach teeming with humanity; a forest of mostly oak trees; vast fields of land bordering a river, and a crew of men burning brush in the forest. All of the images I created are based on personal experience, most in the company of my beloved dogs. A fishing boat working its way through the fog to its homeport; a storm near the Westport river in the spring; a group of blossoming trees bordering an old lane where the poor farm once stood, and an old church on a snowy winter's morning with its windows lit with stories from the gospel, beckoning the faithful to its warm interior. We are only here for a short time, our souls surrounded by flesh, blood, and bone. A memory of my time is what I leave behind.

Church Door

Lynn Clapham, 2020

Block Island Driftwood

Lynn Clapham, 2020

Mangia

Mary Belden Brown, 2020

Monkey Business

Mary Belden Brown, 2020

Funky Fish 15

Jill Law, 2019
---
SEPTEMBER 14TH IS NATIONAL COLORING BOOK DAY
To celebrate below are links to color your own version of some of the works of our Members exhibition!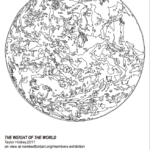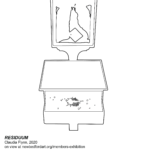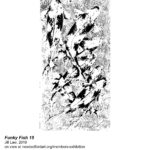 ---
THE JUROR 

Dina Deitsch
Director and Chief Curator of Tufts University Art Galleries
As Director and Chief Curator of the Tufts University Art Galleries, Dina Deitsch oversees the temporary exhibitions and public programs at the Aidekman Arts Center on the Medford campus and at the SMFA at Tufts Boston campus in addition to the university's Permanent Art Collection.  She also organizes contemporary art exhibitions and chairs the University's Gifts of Art and Public Art Committees. Before Tufts, Dina was the Interim Director Carpenter Center for the Visual Arts, Harvard University. She was the Director of Curatorial Projects at Goodman Taft, and the Curator of Contemporary Art at the DeCordova Sculpture Park and Museum.
---
THE ARTISTS